Iran opposes arming parties in Ukraine war
October 10, 2022 - 19:6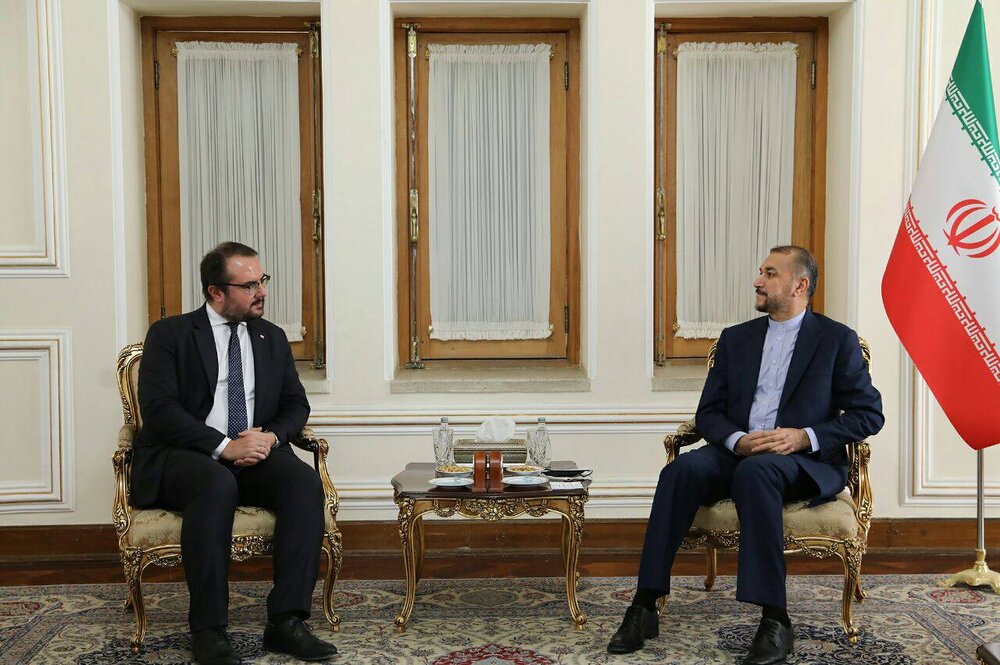 TEHRAN— In a meeting with the Polish Deputy Foreign Minister Pawel Jablonski late on Sunday, Iranian Foreign Minister Hossein Amir Abdollahian once again underscored that Tehran has not supplied any party with weapons to be used in the war in Ukraine.
Amir Abdollahian reiterated that the principled position of Iran is to oppose arming any of the parties in the war with the aim of stopping the conflict.
Several media reports have spoken of Iran providing drones to Russia during the Ukraine war. Iran's top diplomat has explicitly rejected all these reports.
Tehran is seeking a peaceful resolution of the Russia-Ukraine war, as evidenced by its efforts to deliver a peace initiative to the parties engaged in the war on July 31. The mediation was asked by the French President Emmanuel Macron during one of his phone calls with his Iranian counterpart, Ebrahim Raisi.
Previously, in a phone conversation with his Hungarian counterpart Peter Szijjarto on July 22, Amir Abdollahian reiterated that Iran supports diplomatic solution to spell the end of the Ukraine war.
During the meeting, the two diplomats also exchanged views on the horizons of cooperation between the two countries in various political, economic, and cultural fields as well as consular issues.
The Iranian foreign minister welcomed the activation of relations between the two countries in various fields and said there are no restrictions in promoting bilateral relations and using the existing capacities.
Meanwhile, the Polish deputy foreign minister expressed his gratitude to the Iranian foreign minister for explaining Iran's views on issues of mutual interest, and explained Warsaw's views on various issues, including bilateral relations and important regional and international issues.
Polish, Iranian diplomats hold talks on Ukraine war
Iran's Deputy Foreign Minister for Political Affairs Ali Bagheri Kani also held talks with the Polish deputy foreign minister on Sunday.
Bagheri Kani and Jablonski assessed political consultations between Iran and Poland, and discussed bilateral ties as well as regional and international issues, including the Ukraine war.
Bagheri Kani talked about the political and economic potential of Poland and its standing in the European Union, noting, "Iran supports constructive role-playing by Poland for lasting peace and stability in international arena."
He also touched on the role of the Islamic Republic of Iran in establishing stability and security in the region.
"Europe can expect a positive reaction from the Islamic Republic of Iran in any field it chooses to cooperate and interact with Iran," Bagheri Kani stressed.
In an open reference to the Russia-Ukraine war, Bagheri Kani also insisted on Iran's push to end the armed conflict in Europe, saying, "The interests of the European nations rule that the negotiating table is the closest option at hand for resolution of disputes."
Voices are rising among Europeans against support for Ukraine as Europe's sanctions against Russia for its invasion of Russia have led to unprecedented electricity prices and high inflation.
The French people have held protests in Paris calling for withdrawal of France from the North Atlantic Organization (NATO) and asked the Maron government to stop sending arms to Ukraine.
Some politicians and analysts have even warned of a nuclear Armageddon if the war in Ukraine is not resolved politically.
The Ukraine war has entered a new stage as Russia on Monday pounded the capital Kiev and other Ukrainian cities.
The attacks followed after Russian leader Vladimir Putin warned of a "harsh" response in case of any further attacks such as that on the Crimean bridge.
Kiev's police officials say the blasts caused at least five deaths and twelve injuries, but there are no details about the causalities in other cities.
Kiev mayor, Vitaliy Klitschko, issued a statement via his official Telegram account, saying, "Several explosions in the Shevchenskivskyi district - in the center of the capital."
At least four explosions were heard, the Kiev Independent reported and according to public broadcaster Suspilne, an explosion was heard near a railway station in the city.
According to Ukrainian MP Oleksiy Goncharenko, one rocket fell "right in the center of the city".
"Cars are burning, and windows have been shattered in houses. There are dead," he tweeted.
The Russian military also struck several other cities including Lviv, Zhytomyr, Khmelnitsky, Dnipro, and Ternopil.
According to Ukrainian Prime Minister Denys Shmygal, 11 infrastructure facilities were damaged in eight regions as well as in Kiev.
"As of 11 a.m. (0800 GMT), 11 important infrastructure facilities in eight regions and the city of Kyiv were damaged," Shmygal said on Telegram.
Russia's Defense Ministry said it had hit "all designated targets" which included Ukrainian military, communications and energy infrastructure, Russian news agencies said.
Ukrainian President Volodymyr Zelenskiy accused Russia of trying to wipe his country off the face of the earth.
Meanwhile, Putin, who had called the Crimea bridge blast a "terrorist act" carried out by Ukraine secret services, vowed to react forcefully if such attacks continued.
"If attempts continue to carry out terrorist acts on our territory, Russia's responses will be harsh and in their scale will correspond to the level of threats created for the Russian Federation. No one should have any doubt about that," Putin said, according to Press TV.