'Islamic Republic continues to keep U.S. bases in Iraq under surveillance'
Top commander says Iran adamant in attacks on terrorists in northern Iraq
October 16, 2022 - 21:10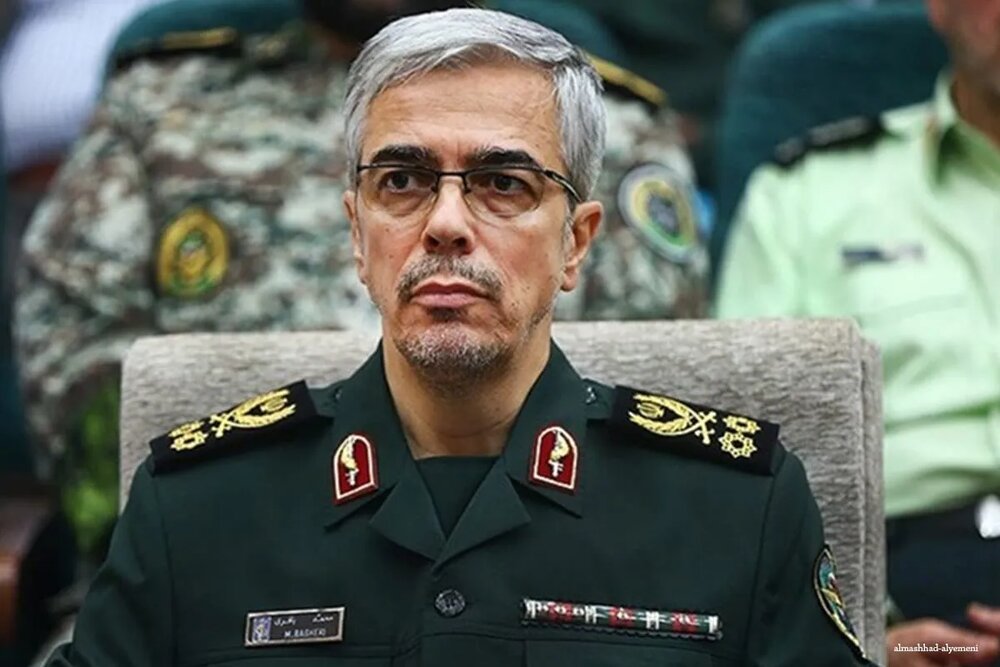 TEHRAN – A top Iranian military official on Saturday vowed that the Islamic Republic would continue its defensive operations against the U.S.- and Israeli-backed separatist terror organizations hiding out in the Kurdistan region of Iraq, close to Iran's northwestern borders.
Since the success of Iran's Islamic Revolution in 1979, the separatists, who are "backed by the U.S. and other enemies," have been operating in the Iraqi Kurdistan region, according to Major General Mohammad Bagheri, Chief of Staff of the Iranian Armed Forces, Tasnim reported.
He went on to say that "today, there are 1200 military camps in northern Iraq" with "3000 armed terrorists operating against us," adding that "during the last several years, however, their bases have transformed into a complex acting against our national security with American help."
The top commander asserted that on multiple occasions, the Israeli regime would directly choose and train a few of these terrorists before sending them across the border to engage in terrorism and other disruptive actions.
"They were being used as terrorists for hire," Bagheri said, saying that "in effect, these terrorist strongholds were Zionists bases," and one of such bases in Erbil recently came under attack by the Aerospace Division of the Islamic Revolution's Guards Corps (IRGC).
He also noted that Iran has repeatedly warned Iraqi Kurdistan's local authorities that it "will not tolerate the presence and bomb-making and military activities" of terrorist groups along its borders.
Iran "will continue these operations and even bigger ones as long as it takes" to flush out and disarm the terrorists, the military chief emphasized.
General Bagheri said that Tehran has repeatedly requested the Kurdish authorities to disarm or wipe out the terrorist organizations, and when they failed to follow through on their commitments, Iran was forced to combat the groups out of self-defense.
The locations of the terrorist organizations were most recently struck by the IRGC earlier this month.
Earlier in May, the IRGC attacked and destroyed the bases of the terrorist organizations active in Erbil.
The IRGC launched an assault in northern Iraq in September of last year as well, demolishing four foreign-backed terrorist organization strongholds there.
In other statements, the top Iranian commander indicated that the Islamic Republic continues to keep U.S. bases in Iraq "under surveillance."
Bagheri reaffirmed, citing a recent assertion by American officials, that "we know where the American bases are situated across Iraq, as well as the number of forces in them and the nature of their actions."
Then he issued a warning, stating that "as of right now, if the Americans take any action against our drones, we will undoubtedly take responsive measures, and we reserve the right to respond to their recent action."
Bagheri also stressed that Tehran has cautioned its neighbors that "should any action be taken against our national security in any American bases in neighboring countries, Iran would surely retaliate against the headquarters in question."