By Faranak Bakhtiari
Citizens of metropolises dream of clean air
January 2, 2023 - 19:37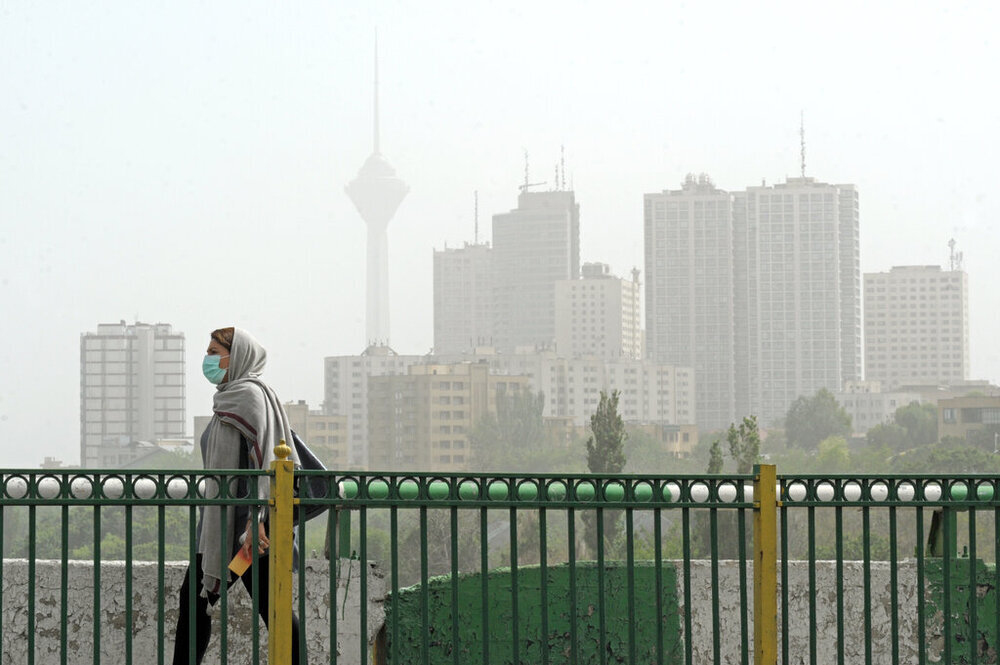 TEHRAN – In the past, the air was supposed to keep us alive, but it seemingly has changed its duty, like many other things, to kill us.
Unfortunately, Iranian metropolises are choked by polluted air. For a week, the acrid air shut down the schools and held residents, hostage, in their homes.
Hazardously polluted days also four folded in Tehran since the beginning of the current year (March 21, 2022), compared to the same period last year.
Iran's Air Quality Index (AQI) scale runs from 0 to 500, and values more than 150 are considered hazardous to everybody. For about two weeks, the AQI is at 150 and above. On the worst day, the AQI surged the scale's limit of 300.
Tehran residents inhaled healthy air only for two days during the past 288 days. While 137 days of polluted air took over the city. Unprecedently, 4 days exceeded the levels of heavily polluted (201-300) and severely polluted (301-500).
Over the same period last year, the AQI surpassed the scale of 150 for six days.
Tehran AQI reported that the leading causes of air pollution are PM 2.5, PM 10, Nitrogen Dioxide (NO2), and Sulfur dioxide (SO2), respectively.
The 2022 update of the World Health Organization's air quality database introduces, for the first time, ground measurements of annual mean concentrations of nitrogen dioxide (NO2), a common urban pollutant and precursor of particulate matter and ozone.
It also includes measurements of PM10 or PM2.5, both originate mainly from human activities related to fossil fuel combustion.
Sulfur dioxide is also a colorless gas or liquid with a strong, choking odor. It is produced from the burning of fossil fuels (coal and oil) and the smelting of mineral ores (aluminum, copper, zinc, lead, and iron) that contain sulfur. How did it emerge in the capital?
Etemad newspaper reported that based on the information and maps of a space startup, the concentration of sulfur dioxide in Tehran air increased by more than 32 percent compared to 2018.
Abbas Shahsavani, head of the air health and climate change department of the Ministry of Health, confirmed the unusual increase in sulfur dioxide and said that 'some industries started using sulfur-containing fuels.'
Sheena Ansari, an environmental expert and the former director general of the environment and sustainable development of Tehran Municipality, told Etemad that "If the power plants' claim of not using mazut is true, the next fault will be with industrial fuel or the use of non-standard diesel."
Mohammad Mahdi Mirzaei Qomi, CEO of Tehran Air Quality Control Company, said that the level of sulfur dioxide pollutants on December 13 to 16 was 'unprecedented' in the past 7 years.
The hazardous air is putting tens of millions of people at risk — not only in the capital but across the country.
Clean Air Act is supposed to drastically cut levels of air pollution — including lead, sulfur dioxide, nitrogen dioxide, ozone, and fine particles — from vehicles, power plants, factories, and other sources. But the air-quality success story has been swamped in the past decade by weak enforcement of the law.
Indivisible danger
Air Pollution can take a toll on mental and physical well-being.
Effects of air pollution on mental health are anxiety, productivity, concentration and focus, mental exhaustion and fatigue, dementia and other mental disorders, mood fluctuations and irritability, and consequences of air pollution on your physical health.
Particulate matter is capable of penetrating deep into the lungs and entering the bloodstream, causing cardiovascular, cerebrovascular (stroke), and respiratory impacts. There is emerging evidence that particulate matter impacts other organs and causes other diseases as well.
NO2 is associated with respiratory diseases, particularly asthma, leading to respiratory symptoms (such as coughing, wheezing, or difficulty breathing), hospital admissions, and visits to emergency rooms
WHO last year revised its Air Quality Guidelines, making them more stringent in an effort to help countries care more about people's health.
"I feel deeply tired these days even after sufficient hours of sleep, and wake up with a headache," Farzaneh, a citizen of Tehran told the Tehran Times.
"I was more productive at work during my resistance in the city of Tabriz, I feel I am breathing poisonous air now," said Mehdi, an employee in the capital.
A mother of two-children Marzieh also said 'I am highly stressed during the whole day keeping the children inside not to be on exposure to polluted air."
Taking toll
WHO's data indicates that 4.2 million people die from exposure to outdoor air pollution, in addition to the 3.8 million whose deaths are linked to household smoke produced by dirty stoves and fuels.
The figure in Iran is around 40,000 premature deaths annually.
During the past year (March 2021-March 2022), more than 21,000 people died in 27 cities of the country due to air pollution, Darioush Gol Alizadeh, head of the national center for weather and climate change affiliated with the Department of Environment, said.
The number of all deaths attributed to long-term exposure to PM2.5 particles increased by more than 87 percent last year compared to a year before.
FB/MG