Blacks ask: This is dreamland or dramaland?
January 15, 2023 - 22:35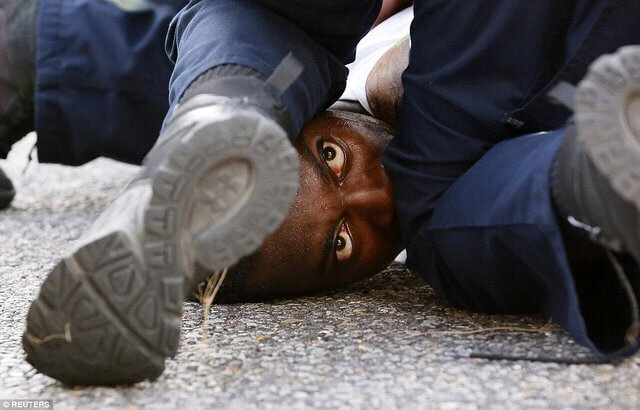 TEHRAN- Undoubtedly, racial tensions in America today have become one of the most important challenges of the country, and these tensions are the result of full-scale racial discrimination in American society, especially against Blacks, who are referred to as African-Americans.
When you are born to Black parents, you have to receive special education to be able to live.
When a Black man is called by the police for an alcohol test, if his hand is in his pocket, he is doomed to be shot and must take his last breaths and enjoy seeing the last beautiful sights of the universe.
Today, parents of persons who are Black, whether father or mother is Black or both, know what to teach their children. Tell them what to do and what not to do.
Tehran Von Ghasri, a Black man who was born from an Iranian father and a Black mother, says: I have been stopped many times by the police on the pretext of drinking alcohol, while I have never drunk alcohol in my life.
For not just a fistful, but for just 20 bucks
George Floyd Jr., an African-American man, was murdered by a police officer in Minneapolis, Minnesota, during an arrest made after a store clerk suspected Floyd may have used a counterfeit twenty-dollar bill, on May 25, 2020.
Derek Chauvin, one of the four police officers who arrived on the scene, knelt on Floyd's neck and back for 9 minutes and 29 seconds which caused a lack of oxygen. After his murder, protests against police brutality, especially towards Black people, quickly spread across the United States and globally. His dying words, "I can't breathe," became a rallying slogan.
Now that you understand that George Floyd was killed for not just a fistful, but for just twenty bucks, you should not be surprised because America is the land of opportunities and whenever a policeman gets a chance, he can kill Black people even for less money and surprisingly, he is acquitted most of the time.
George Floyd was killed and this issue became a security challenge for Arica. Thousands of American citizens, both Black and white, reacted in the streets to the systematic killing of Blacks by the American racist police, and for a long time, major American cities were involved in a crisis.
Now, almost two years after that incident, history repeats itself again. The police kill another Black person in America.
Black Lives No Matter Any longer
In 2013, three radical Black organizers — Alicia Garza, Patrisse Cullors, and Opal Tometi — created a Black-centered political will and a movement-building project called Black Lives Matter.
It was in response to the acquittal of Trayvon Martin's murderer, George Zimmerman.
Now, nearly 10 years after that event, another thing happened in America. This time a cousin of the Black Lives Matter co-founder Patrisse Cullors died hours after he was repeatedly tasered and restrained in the street by Los Angeles police.
Keenan Anderson, 31, a teacher and father, died at a hospital in Santa Monica.
Los Angeles Police Department (LAPD) have released body camera footage of the January 3 encounter.
It shows Mr. Anderson begging for help as officers hold him down.
The police who tasered Anderson were called to a traffic accident in the Venice neighborhood of Los Angeles at around 15:00 local time.
Police chief Michel Moore told a news conference on Wednesday that Anderson had committed a felony hit-and-run in a traffic collision.
He said Anderson had attempted to flee the scene by trying to "get into another person's car without their permission".
Footage shows Anderson in distress when police arrive, telling the first officer "somebody is trying to kill me", although no visible threat appears on camera.
Initially, Anderson sits down as directed but as more police arrive he gets up and runs into the street while ignoring requests for him to stop.
When police reach Anderson and attempt to detain him, he is initially compliant before shouting: "Please" and "help" and "they're trying to George Floyd me!"
The stun gun was initially used on Anderson for about 30 seconds after an officer warned him multiple times to "stop [resisting arrest] or I'm going to tase you". Other officers were holding him down. He was then tasered again for roughly five more seconds.
An ambulance arrived about five minutes after he was tasered, police said, and brought Mr. Anderson to a local hospital. He died about four-and-a-half hours later after going into cardiac arrest, according to police.
People shot to death by police from 2017-2022 by race
Based on the statistics published by Statista Research Department, on Jan 2, 2023, the trend of fatal police shootings in the United States seems to only be increasing, with a total of 1,060 civilians having been shot, 220 of whom were Black, as of December 20, 2022.
In 2021, there were 1,055 fatal police shootings, and in 2020 there were 1,020 fatal shootings.
Additionally, the rate of fatal police shootings among Black Americans was much higher than that for any other ethnicity, standing at 5.9 fatal shootings per million of the population per year between 2015 and December 2022.
The table below shows the depth of the disaster: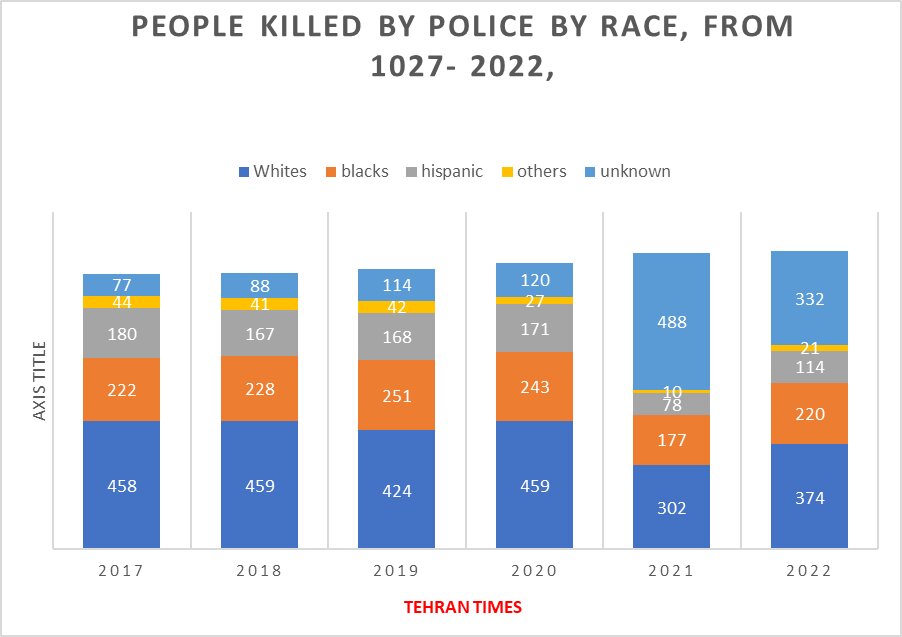 However, as of 2020, white Americans are the racial and ethnic majority, with non-Hispanic whites representing 57.8% of the population.
Hispanic and Latino Americans are the largest ethnic minority, comprising 18.7% of the population, while Black or African Americans are the second largest racial minority, only making up 12.1%.
Last word; America is the land of opportunities and dreams
If serious action is not taken in the future to eliminate these challenges, they can become a threat to the trembling national security of the U.S. and completely change the situation.
It used to be said that The Only Good Indian Is a Dead Indian, but today it has been extended to other races, especially Blacks, and it can be easily said that according to the American police, The Only Good Black Is a Dead Black.
Yes, the U.S. is the land of dreams and opportunities. America is the land of dreams because every Black child born in that country has a dream, and that is to live in peace and tranquility. Living in a country that interrogates them for none.
Also, America is the land of opportunities because every policeman allows himself to use any opportunity to kill Blacks, and in the meantime, equal opportunities are available for white policemen to kill Black targets.