Workshop to explore bird-watching in Mazandaran
January 17, 2023 - 22:49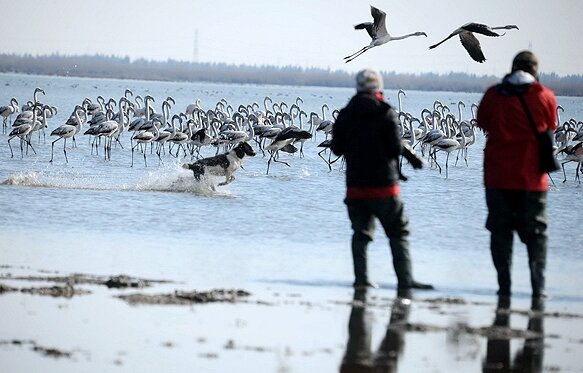 TEHRAN – A workshop on bird-watching is scheduled to be held in the northern province of Mazandaran in the near future, the deputy provincial tourism chief has said.
Participants will have the opportunity to view birds in the UNESCO-registered Hyrcanian Forests, boat in wetlands, learn about 50 species of migratory birds, and practice traditional fishing methods, Mehran Hassani said on Tuesday.
A major tourist attraction in Mazandaran is bird watching, and efforts are being made to make this branch of tourism flourish in different areas throughout the province, which welcomes a variety of migratory birds every year, the official added.
This could gradually become an alternative to hunting birds by earning money from their presence, he noted.
Birdwatching, the observation of live birds in their natural habitat, is a popular pastime and scientific sport that developed almost entirely in the 20th century.
The northern provinces of Gilan, Golestan, and Mazandaran embrace a variety of freshwater lakes, wetlands, and lagoons, which are the main destinations for traveling pelicans, flamingos, ducks, swans, coots, and some other species.
The south Caspian Sea retreat will remain dominated by its northerly guests until about mid-May, when the migration season comes to an end. In a wider scene, the mid-winter population of migratory birds is estimated to exceed a million in the whole southern sandy shorelines of the Caspian Sea that spans some 700km.
Sandwiched between the towering Alborz mountain range and the Caspian Sea, Mazandaran has a rich yet turbulent history. An early civilization flourished at the beginning of the first millennium BC in Mazandaran (Tabarestan).
Its insecure eastern and southeastern borders were crossed by Mongol invaders in the 13th and 14th centuries. Cossacks attacked the region in 1668 but were repulsed. It was ceded to the Russian Empire by a treaty in 1723, but the Russians were never secure in their occupation. The area was restored to Iran under the Qajar dynasty.
The northern section of the region consists of lowland alongside the Caspian and upland along the northern slopes of the Alborz Mountains. Marshy backlands dominate the coastal plain, and extensive gravel fans fringe the mountains. The climate is permanently subtropical and humid, with very hot summers.
ABU/AM