Art exhibit pays tribute to painter Habibollah Sadeqi
January 17, 2023 - 18:50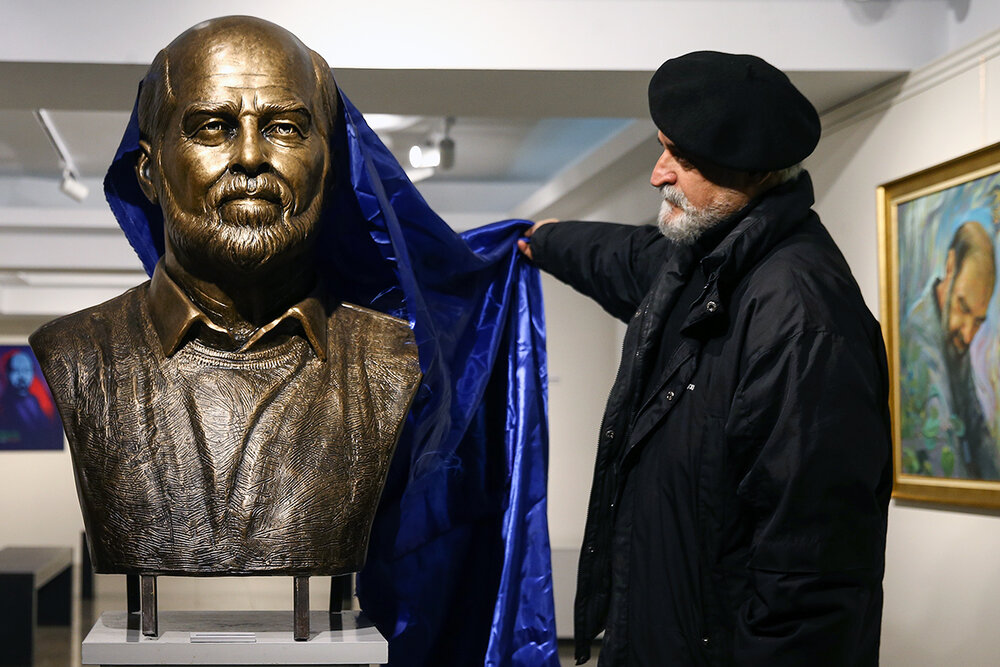 TEHRAN – An exhibition displaying posters and paintings opened on Monday at the Abolfazl Aali Gallery of the Art Bureau in Tehran to pay tribute to painter Habibollah Sadeqi.
The 65-year-old artist, who was best known for his works on the Islamic Revolution and the 1980-1988 Iran-Iraq war, died of heart failure last July.
Sadeqi has been portrayed at the showcase in dozens of works created by artists such as Abolfazl Khosravi, Amir Dastmardi, Hamed Maghruri, Hossein Yuzbashi, Hamid Qorbanpur and Leila Nirumand.
Art Bureau director Mohammad-Mehdi Dadman, Visual Arts Office director Abdorreza Sohrabi, Sadeqi's family and a number of artists attended the opening ceremony of the exhibit entitled "Commemoration of Habib".
A bust of Sadeqi created by Nader Qashqai and one of his paintings on Hazrat Fatima (SA), daughter of the Prophet Muhammad (S), were unveiled at the showcase.
In addition, "Artist of the No. 5", a documentary by Mohammad-Saleh Hojjatoleslami that depicts parts of Sadeqi's professional career, was screened at the opening ceremony of the exhibition.
"We've come together at this meeting to remember an archetypal artist who was highly dedicated to the Islamic Revolution and compassionate toward the younger generation and the people of the country," Art Bureau Deputy Director for Artistic Affairs Ali Foruzanfar said.
"He provided a framework that allows us to talk about Iranian and Islamic Revolution art in a serious and clear way," he added.
"Habibollah Sadeqi was a pioneer among the artists dedicated to the Islamic Revolution, and was never hesitant about expressing his views and ideas through his art," he noted.
Sadeqi started painting at eight and then was admitted to the School of Fine Arts in Tehran. He studied painting in the Fine Art Faculty at the University of Tehran.
His academic education continued and he obtained a Ph.D. in art at Tarbiat Modarres University.
Sadeqi served as the director of the Tehran Museum of Contemporary Art (TMCA) from 2003 to 2008.

He also carried out several study projects on different topics such as "An Analysis of Forms, Images and Colors in the Holy Quran" and "Images of Humans in the Mirror of Art after the Advent of Islam in Iran".
His works have been showcased in over 100 solo and group exhibitions in Iran and have received great critical acclaim.
One of his solo exhibits entitled "Piece of Paradise" was organized at Tehran's Sareban Gallery in January 2012.
In his latest painting project, "A Requiem for the Manifestation of Simorgh", done at the Khial Gallery of the Saba Art and Cultural Institute, Sadeqi paid a tribute to General Qassem Soleimani.
Photo: Sculptor Nader Qashqai unveils his bust of painter Habibollah Sadeqi in an exhibition that opened at the Abolfazl Aali Gallery of the Art Bureau in Tehran on January 16, 2023, to pay tribute to the artist. (IRNA/Payam Sani)
MMS/YAW