Tehran, Minsk agree to launch joint forestry plans
January 30, 2023 - 18:3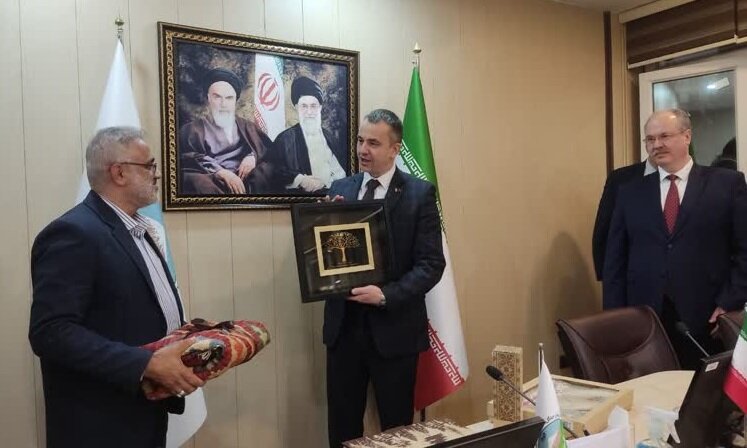 TEHRAN – Iranian Deputy Agriculture Minister Abbas-Ali Nobakht and Belarusian Deputy Minister of Forest Management Vladimir Krech met in Tehran on Sunday, discussing ways to implement joint plans related to forestry.
While discussing the export of wood and saplings from Belarus to Iran, the two sides emphasized the need to develop cooperation and transfer knowledge and experience in the field of sapling production, combating pests and diseases, and implementing forestry projects, ILNA reported.
Ambassador of Belarus Dmitry Koltsov and a number of officials from the natural resources and watershed management organizations of Iran were also present at the meeting.
Nobakht said Iran has 11 of the 13 climates in the world, and sometimes the temperature difference between different parts of it reaches 30 to 35 degrees Celsius.
The oldest forest in the world, the Hyrcanian forest, exists in the north of Iran, he highlighted.
"There are forests in Iran that are more than three thousand years old, and the country also has very strong pastures and rare deserts."
There are a total of 8,438 plant species in natural areas of Iran, some of which are rare in the world, he said, adding that of the total area of 165 million hectares of Iran, about 135 million hectares are natural resources.
"The protection of Iran's forests is very important for us from an ecological point of view, and for this reason, we banned the exploitation of wood from forests about six years ago."
"So, we need to produce wood needed by industries either through wood cultivation or import from other countries."
"We hope that in addition to importing wood, we will also enjoy the experience of Belarus in the production of saplings."
The Belarusian official, for his part, while expressing readiness for cooperation and exchange of experiences between the two countries in producing seedlings and fighting against pests and diseases, said: "We are ready to welcome the Iranian delegation to the forestry sites of Belarus."
"We are fully capable of producing seedlings based on Iran's climate. Also, we have the capacity to supply raw materials needed by wood processing industries in Iran," he added.
Mostafa Jalili, an official with Natural Resources and Watershed Management Organization, has said 2.27 trillion rials (about $5.5 million) is projected to be spent on forestation plans.
The national budget bill for the next Iranian calendar year 1402, which starts on March 21, has allocated the budget for dealing with wind erosion as well as sand and dust storms, IRNA quoted Jalili as saying.
Moreover, 13.66 trillion rials (about 34 million) have been allocated for watershed management and soil protection, he added.
Jalili went on to say that 8.57 trillion rials (about $21 million) have been allocated for the protection, restoration, and exploitation of forests and pastures.
In the current year, some 26 trillion rials ($65 million) has been allocated to protecting natural resources in the fields of watershed management and soil protection, protection and sustainable exploitation of forests and pastures, and dealing with desertification, he noted.
Meanwhile, a roadmap for environmental protection has been developed, Rouhollah Naqdipour, the secretary of the strategic council of the Department of Environment, has announced.
The document presents 13 national macro strategies and 46 cross-sectoral measures for five main environmental challenges, he said, IRNA reported.
The 7-chapter book also suggests reforms for systematic purposeful solutions and policies to solve environmental issues including the water crisis, he explained.
He listed the five major environmental challenges of the country as the imbalance between water resources and consumption leading to drought, soil erosion, waste and sand and dust storms, air pollution in metropolises, destruction of biodiversity and genetic resources, and imbalance between the environment and industrial and civil development.
MG