Tehran tourism fair opens doors to public
February 7, 2023 - 19:14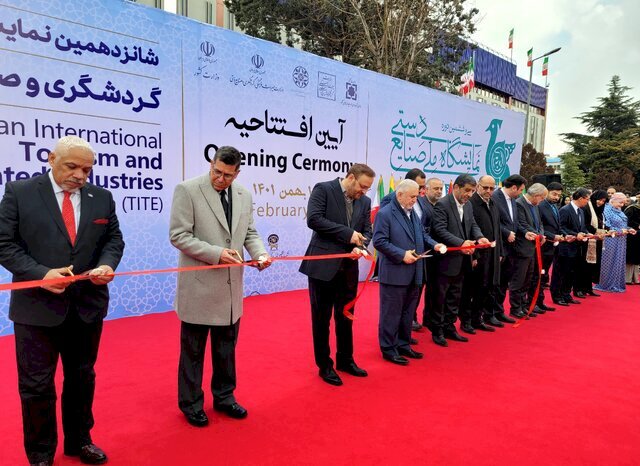 TEHRAN – Tehran's international tourism and handicrafts fair opened to the public on Tuesday morning at the Tehran Permanent International Fairgrounds, CHTN reported.
Iran's Cultural Heritage, Tourism, and Handicrafts Minister Ezzatollah Zarghami attended the opening ceremony of the fair.
The fair brings together 200 exhibitors from 47 countries involved in the tourism industry, the report added.
Foreign participants will attend the exhibition as exhibitors and visitors, and a private-sector negotiation hall has been set up for them.
A number of countries have pavilions at the exhibition, including Qatar, Iraq, Japan, Indonesia, Tajikistan, Kyrgyzstan, Malaysia, Russia, and Venezuela.
The exhibition is also attended by countries such as Oman, Syria, Turkey, Armenia, Lebanon, Libya, Algeria, China, and Georgia, among others.
A total of 67,000 square meters has been devoted to the exhibition, which is running in 15 vast halls.
Over 70 licensed health tourism centers are also present at the exhibition.
It is a benchmark event in the tourism sector of the country as a meeting place for industry professionals and the premier trade show for destinations and destination markets. It turns the spotlight on new tourist segments, technological leadership in the management of tourism, and knowledge transfer tools.
It stages cultural evenings, B2B meetings, folk music performances, live workshops, 3D films of historical monuments and tourism destinations, and highlights of Persian cuisines, to name a few.
The handicrafts sales exhibition brings together craftspeople and artisans from all over the country, showcasing arrays of personal ornamentation, woodwork, illuminated manuscript, miniature, textile printing, enamel, leatherwork, handwoven textile, calligraphy, traditional musical instrument, metalwork, and marquetry to name a few. Nomadic culinary arts, live workshops, and performances are among other themes for the event.
The 36th National Handicrafts Exhibition and the 16th Tehran International Tourism Exhibition, which are held simultaneously, will be running until February 10.
ABU/AM