Iran embassy dismisses remarks by American diplomat on Ukraine war
February 21, 2023 - 22:47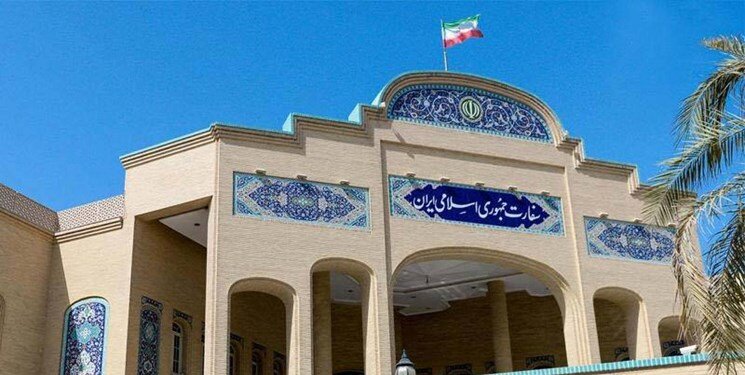 TEHRAN – The Iranian embassy in Kuwait has reacted to remarks by the American chargé d'affaires to Kuwait in which he leveled accusations against Iran regarding the war in Ukraine. 
"The Embassy of the Islamic Republic of Iran in Kuwait considers the recent statements of the US Chargé d'Affairs at the press conference with journalists regarding the export of Iranian weapons to Russia to be completely unfounded," the embassy said in a statement.
It added, "It declares that the principled position of the Islamic Republic of Iran has been clear from the beginning regarding the Ukrainian crisis and is based on protecting the Ukrainian territorial integrity and the need to end the strife through political solutions and active non-alignment."
The statement continued, "As we have repeatedly stated, the Islamic Republic of Iran did not provide any drone or weapons to any party for use in the Ukrainian war, and all areas of Iranian defense and armament cooperation with countries of common orientation are compatible with Iran's international rights and obligations."
It noted, "The Islamic Republic of Iran has repeatedly asked the Ukrainian side to submit the documents and papers it claims, or to form a technical and military committee to verify this claim, but Kiev has not agreed and has not submitted any documents so far."
It concluded, "The Islamic Republic of Iran considers diplomacy and political discussion the only way to end the regional and surrounding crises and the Ukrainian crisis. In the Ukrainian war, it is not on the side of any of the warring parties, but rather believes that sending weapons equipment to any of the warring parties will lead to prolongation of the war."
The embassy reiterated the position Iran had outlined in a non-paper to the United Nations in October last year.
"The Islamic Republic of Iran's position on the Ukraine situation is clear, consistent, and unwavering, which has been pronounced since the start of the conflict. From the beginning, the Islamic Republic of Iran has always emphasized that all UN Members must fully respect the purposes and principles enshrined in the United Nations Charter as well as applicable international law, including sovereignty, independence, unity, and territorial integrity," the non-paper said.
It added, "As a country that has experienced 8-year imposed war and aggression, Iran opposes any conflict or war anywhere in the world, including in Ukraine. Iran has consistently advocated for peace and an immediate end to the conflict in Ukraine and expressed clearly that this crisis has no military solution, and building upon this belief, Iran has urged the parties in the conflict to exercise restraint, avoid escalating tensions, and engage in a meaningful process for settling their disputes through peaceful means while also addressing the root causes of the situation."
The Iranian mission to the UN further said, "At the same time, Iran has also rejected any unilateral sanctions, and/or pressure, as well as any provocative measures against one side that would only aggravate the situation and make reaching a peaceful resolution more difficult. Similarly, the West's extensive military support and supply of sophisticated weapons could not be intended to bring the war to a close, but rather to escalate the conflict and increase damage and destruction. Iran supports the ongoing efforts to find a peaceful solution to this conflict, and in this regard, our Foreign Minister contacted his counterparts from both sides on several occasions."
It noted, "Iran categorically rejects unfounded and unsubstantiated claims that Iran has transferred unmanned aerial vehicles for use in the conflict in Ukraine. Such claims are nothing but a propaganda apparatus launched by certain states to further their political agenda. Against this backdrop, it is really disappointing that, to pursue their political agenda, these States are trying to launch a disinformation campaign against Iran and make misleading interpretations of Security Council Resolution 2231 in order to wrongly establish a link between their baseless allegations against Iran with Resolution 2231."