Kashan's centuries-old bazaar preserved traditional textiles over time, expert says
February 26, 2023 - 22:41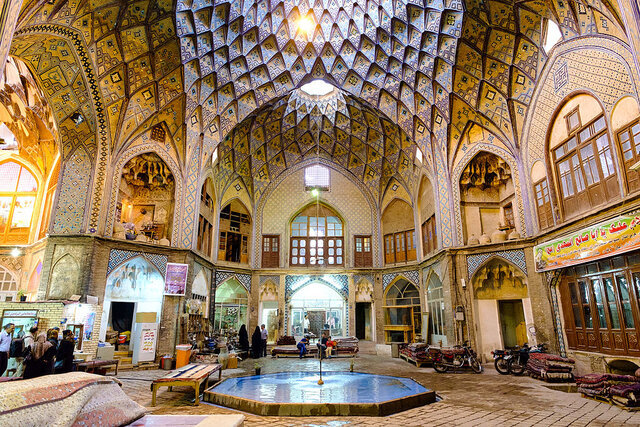 TEHRAN – The historical bazaar of Kashan, an oasis city in Iran's Isfahan province, has played a major role in keeping traditional textiles alive through history, a handicrafts expert has said.
The bazaar, dating back to Seljuk-era (1037–1194), has served as a center for merchants throughout its history, as well as a center for the supply of textile products and raw materials, ISNA quoted Morteza Ahmadi Nejat as saying on Sunday.
It also has played a big role in the survival of traditional textiles, he added.
Nowadays, domestic and foreign tourists purchase textile products from textile shops and raw material production workshops in the bazaar, indicating the revived dynamism of traditional textiles, he noted.
The city has almost 1,000 artisans practicing 70 different handcrafts, making it eligible for UNESCO's designation as a world city of traditional textiles, he mentioned.
While most of the bazaar's covered structures and marketplaces are associated with the 19th century onwards, the history of trade in the bazaar dates almost 800 years.
Two main alleys lead through the bazaar, one known as the 'Main Line', and the other as the 'Copper Line', which lives up to its name for at least part of its length. There's also a wealth of caravanserais, mosques, madrasas, and hammams (public bathhouses) to explore.
Chief among the attractions is the fine Amin al-Dowleh Timcheh, a caravanserai with a soaring, beautifully decorated dome. Dating from 1868, the caravanserai is home to carpet sellers and the odd curiosity shop.
The bazaar also includes the 19th-century Hammam-e Khan, the Seljuk-era Soltani Mosque, and the 800-year-old Mir Emad Mosque.
Many travelers opt to bypass Kashan on their journeys between Tehran, Isfahan, and Yazd, but this delightful oasis city on the edge of the Dasht-e Kavir is one of Iran's most alluring destinations. The city not only boasts a cluster of architectural wonders and a UNESCO-recognized garden, but it also offers some of central Iran's best traditional hotels.
During the Seljuk period (1051–1220) Kashan became famous for its textiles, pottery and tiles, reaching high levels of accomplishment in each of these cottage industries. Today it is more widely known as a major center for the production of rose water, which is sold at outlets around the main tourist attractions and dedicated stores in the bazaar.
ABU/AM