Isfahan International Sculpture Symposium to showcase top 14 works
February 26, 2023 - 18:33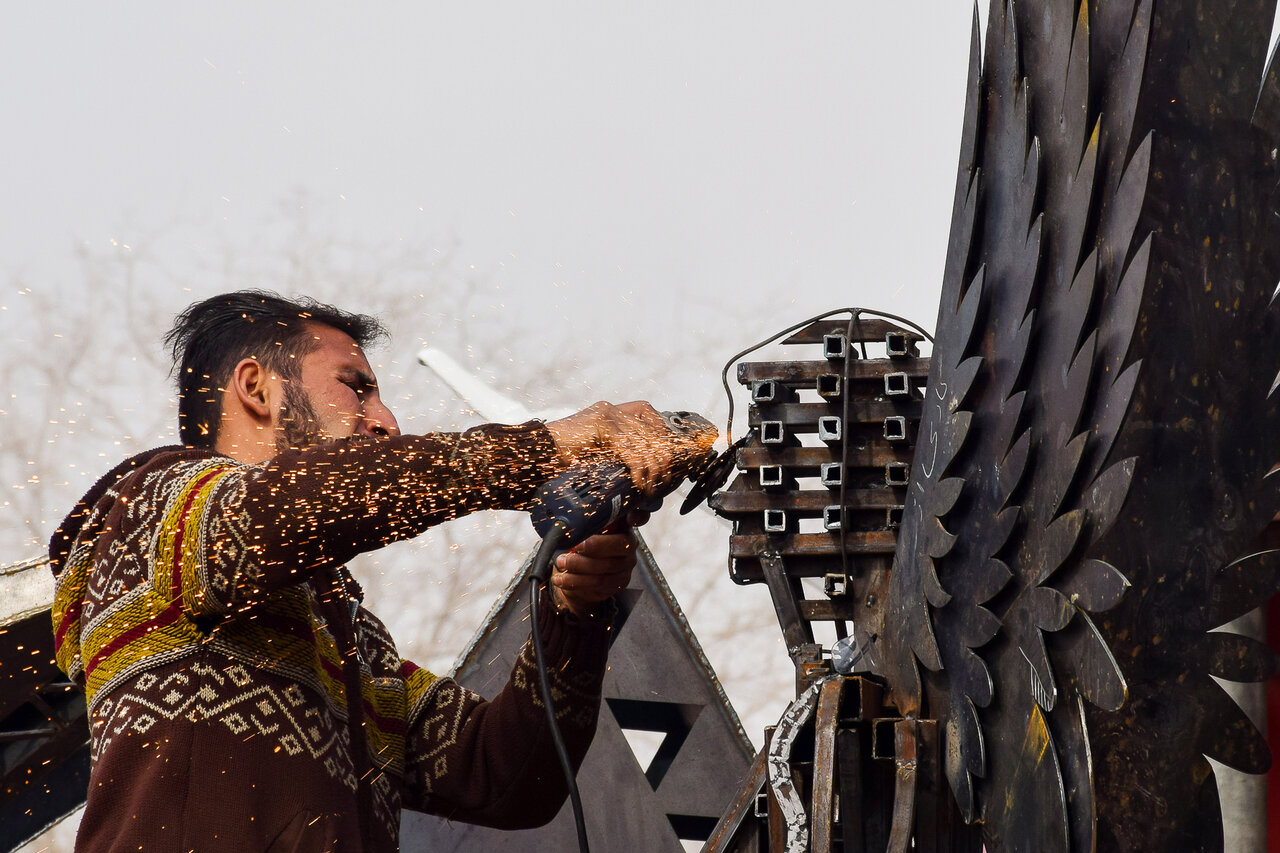 TEHRAN – Top 14 works of the first edition of the Isfahan International Sculpture Symposium will be on view in an exhibition in the central Iranian city.
Eleven sculptures from the collection have been created by Iranian artists and three others have been produced by sculptors from Russia, Armenia and Turkey, the Isfahan Municipality's Beautification Organization announced on Saturday.
Six editions of the symposium were organized nationwide over the past six years.
Thirty-seven Iranian and foreign artists have participated in the symposium, which ends on Monday.
Following the exhibition, the top works will be installed at different sites in Isfahan.
Hamid Qannadnia, the managing director of the Beautification Organization, said that the symposium was organized with a budget of about 25 billion rials (about $42,000 based on Iran's free-market exchange rate: $1 = 600,000 rials).
He noted, "Holding the symposium helped the organization save on the cost of making the sculptures; producing the artworks in separate projects would increase the municipality's costs."
The sculptures have been made of iron that has oxidized over the past few weeks, Qannadnia said, and added that the artists wanted to retain the rust as they believe the oxidation makes the artworks more beautiful.
He said that the previous editions of the symposium focused on wooden and stone sculptures, however, iron as a medium has recently been regarded by sculptors as it has the flexibility to be shaped into different forms.
"In addition, artists need a limited amount of time and money to create an iron sculpture compared with other media," he said.
The Tehran Municipality's Beautification Organization also organizes the Tehran International Sculpture Symposium every year. However, the 2021 edition of the symposium was canceled due to the pandemic.
World-renowned sculptors such as Laura Marcos from Argentina, Olga Nechay from Belarus, Arijel Strukelj from Slovenia, Georgi Minchev from Bulgaria, Jiang Chu from China, Sangam Vankhade from India, Ulises Jiménez Obregon from Costa Rica, Victor Arturo Guadalupe Tineo from Peru, Yeh Chuan Hsien from Taiwan and Alex Labejof from France were among the participating sculptors at the symposium.
Photo: An artist creates a work during the first edition of the Isfahan International Sculpture Symposium on February 25, 2023. (ISNA/Rokhsareh Purheidari)
MMS/YAW