Iran lauds visit by top Arab legislators to Syria
February 28, 2023 - 22:43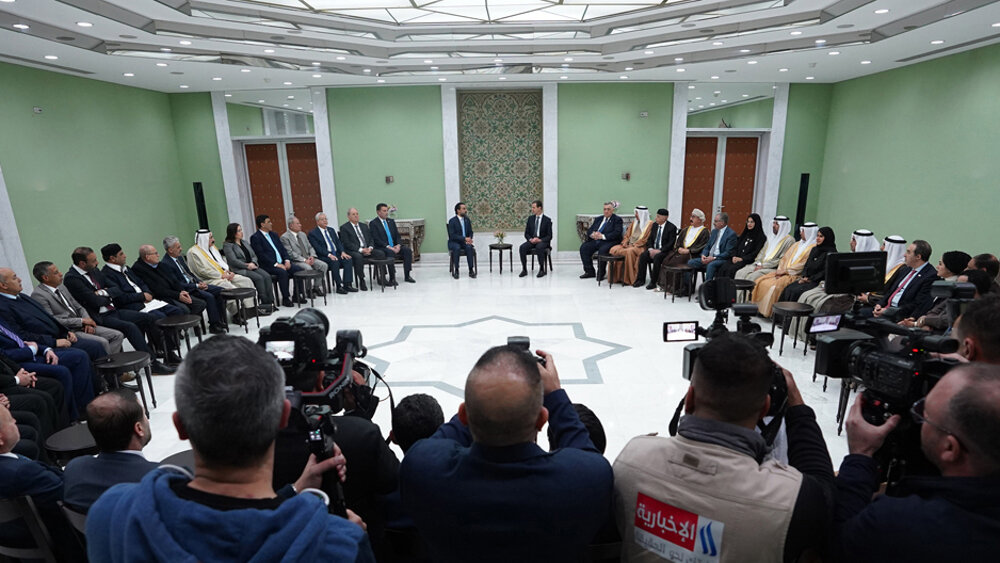 TEHRAN - A recent trip by Arab parliament speakers and senior legislators to Syria is a positive step toward Islamic solidarity, Iran says, emphasizing that dialogue and regional approaches can solve the woes in the region.
"The recent progress in relations between Arab countries and Syria, including the visit by Arab parliamentary delegations to Damascus to express solidarity with Syria following the recent devastating earthquake, in addition to being a realistic approach, is a positive step toward Islamic solidarity," Iranian Foreign Ministry spokesman Nasser Kanaani tweeted on Tuesday.
According to Press TV, Kanaani added that regional countries will be able to resolve their problems through "dialogue and regional mechanisms" if they act realistically, adopt an independent national stance, and pay no heed to the demands of the hegemonic powers.
The high-profile Arab lawmakers visited Damascus on Sunday amid attempts by certain countries, above all Iraq, to restore Syria's membership in the Arab League, more than a decade after it was suspended from the 22-member bloc.
Egypt's Foreign Minister Sameh Shoukry also visited Damascus on Monday in the first such visit by a top Egyptian diplomat since the foreign-sponsored militancy erupted in Syria more than a decade ago.
In a meeting with President Bashar al-Assad, the top Egyptian diplomat reaffirmed his country's solidarity with Syria and its preparedness to continue supporting Syrians in the aftermath of the devastating February 6 earthquake.
In a meeting with the Arab Inter-Parliamentary Union later on Sunday, Assad said, "The delegation's visit to Syria today means a lot to the Syrian people as it indicates the support to the Syrians ... who are exposed as a result of the terrorist war and the repercussions of the earthquake."
Foreign Ministry censures settlers' rampage on Palestinian villages
Also on Tuesday, Iran's Foreign Ministry censured the deadly Israeli settlers' rampage through Palestinian villages in the Nablus area of the West Bank, saying the attacks have been carried out following the regime's brutal massacres across the occupied lands over the past few weeks.
Ministry spokesman Kanaani lambasted brutal assaults by extremist settlers on defenseless Palestinians in Huwara town as well as the surrounding areas and decried arson attacks on residential buildings and private properties.
The settlers' criminal acts are in line with the cold-blooded killings of Palestinians at the hands of the occupation army in Nablus and Jenin in recent weeks and represent a clear example of the Tel Aviv regime's structural and state-sponsored terrorism.
He called on the international community to exhibit a decisive, effective and deterrent response to the terror machine of the Israeli apartheid regime.
"The extremism and criminal behaviors of the bogus Israeli regime, besides its failure to honor commitments and agreements, have once again rightly demonstrated that the legitimate struggle against Zionist occupiers and their aggression is the sole option before the Palestinian nation and resistance groups," Kanaani said, Press TV reported.