48,000 Noruz travelers tour UNESCO-designated citadel
April 7, 2023 - 18:33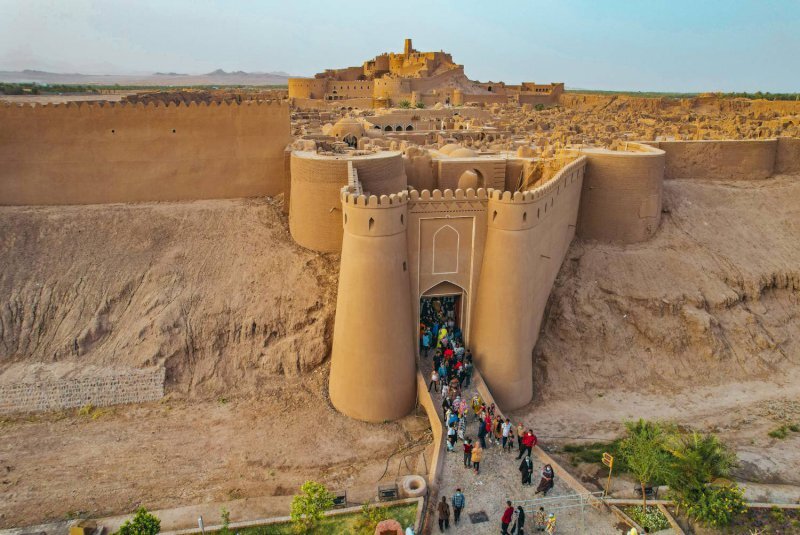 TEHRAN – Some 48,000 people paid visits to Arg-e Bam, a massive UNESCO-registered citadel in southern Kerman province, during the New Year (Noruz) holidays, which ended on April 2, the director of the World Heritage site has said.
To better serve visitors this year, effective measures were taken at the site compared to last year, Mohsen Qasemi explained on Friday.
The activities undertaken during the holidays attracted a large number of tourists to the citadel and its cultural landscape, he added.
Noruz holidays offer a good opportunity to strengthen the tourism sector of Bam city, he noted.
Situated on the margins of a harsh barren desert, the citadel rises like a phoenix again from the intimating earthquake after being almost entirely leveled in 2003.
After the devastating earthquake, heritage experts from Iran and abroad worked tirelessly to restore the cultural landscape of Bam, including orchards, cisterns, and many ancient buildings – around 23,000 hectares – of which the Bam Citadel is only one small part.
Today, the massive project to save the Bam cultural landscape is almost complete, letting the ancient site host sightseers, history buffs, and cultural heritage enthusiasts. Tracing its origins back to the 6th century BC in the Achaemenid period, the oasis town and citadel of Bam didn't experience its golden era until much later in the 7th to 11th centuries when it was one of the key stops on the Silk Route transporting goods between Asia, Europe, and West Asia.
According to UNESCO, Arg-e Bam is the most representative example of a fortified medieval town built in vernacular technique using mud layers (Chineh), sun-dried mud bricks (Khesht), and vaulted and domed structures.
Bam and its Cultural Landscape represent an outstanding example of an ancient fortified settlement that developed around the Iranian central plateau and is an exceptional testimony to the development of a trading settlement in the desert environment of the Central Asian region. This impressive construction undoubtedly represents the climax and is the most important achievement of its type not only in the area of Bam but also in a much wider cultural region of Western Asia.
The cultural landscape of Bam is an important representation of the interaction between man and nature and retains a rich resource of ancient canalizations, settlements, and forts as landmarks and tangible evidence of the evolution of the area. The UNESCO-designated Bam and its Cultural Landscape is situated on the southern edge of the Iranian high plateau close to the Pakistan border.
ABU/AM