Four books of Georgian translation of Shahnameh launched in Tbilisi 
April 7, 2023 - 18:12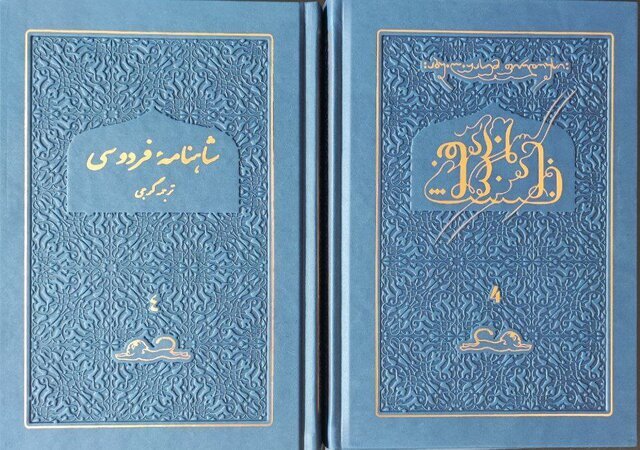 TEHRAN – Four books of a Georgian translation of the Shahnameh, the epic masterpiece of Persian poet Ferdowsi, have been launched in a special meeting at the Tbilisi State Academy of Arts in the capital of Georgia.
The books have been published with contributions from the Ministry of Culture, Sport and Youth of Georgia, the Persian service of IRNA reported last week.
Translator Bela Shalvashvili, Minister of Culture, Sport and Youth Thea Tsulukiani and Iranian Ambassador Mahmud Adib attended the book launch event.
Shalvashvili started translating the Shahnameh (The Book of Kings) about fifty years ago.
Published in nine volumes by Meridian, the book carries over 104 thousand verses.
In his short speech, Adib thanked Tsulukiani for her contributions to the publication of the book and said, "The efforts you have made to publish this great literary work is a big step toward the expansion of cultural ties between Iran and Georgia."
"I hope this major move would inspire other experts and cultural figures in Georgia and Iran," he added.
He also suggested supporting Georgian artists to compose plays and symphonies based on stories from the Shahnameh.
The suggestion was warmly received by Tsulukiani who asked Adib to support a book launch event for the Georgian translation of the Shahnameh in Tehran.
Persian literature has been highly regarded by many Georgian scholars.
The most recent example was in May 2021 when a Georgian translation of Persian poet and mystic Molana Jalal ad-Din Rumi's Masnavi-ye Manavi was introduced at Ivane Javakhishvili Tbilisi State University in the Georgian capital of Tbilisi.
Georgian poet Giorgi Lobzhanidze is the translator of the Persian masterpiece, which has been published in two volumes with contributions from the Iranian Culture Center in Tbilisi.
He is a translator of the Quran, and the collection "Persian Fairy Tales" and the Gulistan by Persian poet Sadi, "The Water's Footsteps" by Sohrab Sepehri and "Another Birth" by Forugh Farokhzad.
Photo: Cover of the Georgian translation of the Shahnameh by Bela Shalvashvili.
MMS/YAW