Interview by Farrokh Hesabi
Playing against Iran always difficult: Engin Firat
April 8, 2023 - 12:58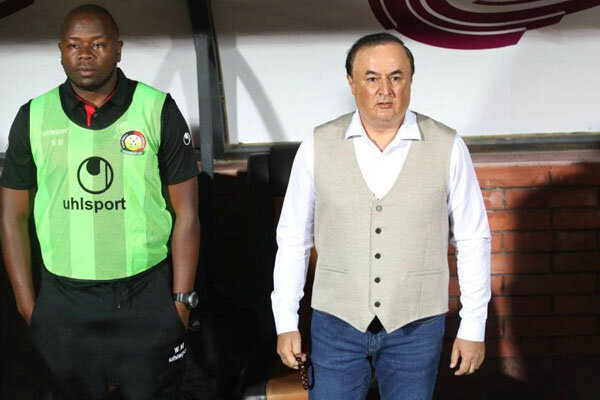 TEHRAN - Engin Firat, head coach of Kenya football national team, believes that friendly match against Iran was very useful for his side.
Iran football team came from a goal down to defeat Kenya 2-1 in a friendly match in Tehran's Azadi Stadium on March 28.
"Of course, this match was very useful for my team because if you play against a strong team like Iran at the Azadi Stadium, it is always very difficult," said the Turkish coach to the Tehran Times.
"You could see in the match that it was not a friendly game, but it was like a World Cup qualifying match. The reason is that Iranian players are always motivated, but now that Amir Ghalenoei came as the new head coach, everybody is fighting for his place in the national team. So, it was not a normal and boring friendly match. It was a really tough game with a high hardworking rate," he added.
Michael Olunga scored for the visiting team in the 51st minute, but Mohammad Mohebi canceled out his goal in the 76th minute. With six minutes remaining, Ramin Rezaeian scored the winner.
"I know Iran very well and I knew exactly how to stop Iran. Iran had a big problem to build-up the game. Iran nearly had zero chances against Kenya from open play. It was totally the opposite in Iran's game against Russia, where Team Melli had a goal chance nearly every two or three minutes. It was not because of the weakness of Iran, rather it was because I know Iran very well. My team made simple mistakes during the game. To be honest, I think Iran was very lucky to win this game," he added.
It was Kenya's first game since the ban imposed by FIFA in 2021 was lifted last year.
"Yes, we had here in Kenya some political interferences in football. The former sports minister interfered in football. Therefore, FIFA banned the Kenya football federation and we couldn't play any match for 500 days until the games against Iran. So, our players didn't play and train together for a long time. Most of the players meet each other before the match against Iran," said the tactician.
Firat, who worked as an assistant coach for Saipa Football Club and Iran national team from 2006 to 2008, also talked about Amir Ghalenoei, current head coach of Iran.
"Amir and I know each other for over 20 years. Amir is a very disciplined and experienced coach. For him, it is not difficult to handle Iranian football stars. You have to support him and you will see that with Amir you will get the results everybody in Iran wants," the Kenya head coach concluded.