Israel bans non-Muslims from entering Al-Aqsa Mosque until Ramadan end
April 12, 2023 - 15:24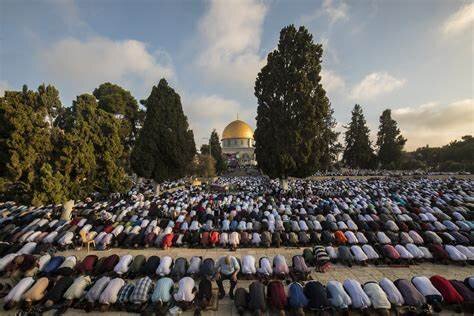 All Jewish and non-Muslim visitors will be banned from Al-Aqsa Mosque complex until the end of Ramadan, a statement from Israeli Prime Minister Benjamin Netanyahu's office said on Tuesday, Middle East Eye reported.
Following a meeting with senior defence establishment officials, Netanyahu, along with Defence Minister Yoav Gallant and National Security Minister Itamar Ben-Gvir, decided to "prohibit the entry of Jewish visitors and tourists to" the mosque until the end of Ramadan, the statement from Netanyahu said.
This decision, which has been made by Israel in previous years, came just days after hundreds of Israeli settlers and ultranationalists stormed Al-Aqsa Mosque as Palestinians were blocked from accessing the site.
Protected by dozens of heavily armed police officers, large groups of Israelis toured the courtyards of Al-Aqsa on Sunday to mark the Jewish holiday of Passover.
At the same time, Israeli forces assaulted Palestinians trying to reach the site overnight to perform the dawn prayer and denied access to worshippers under the age of 40.
The announcement that non-Muslims will be prevented from entering Al-Aqsa comes during the last ten nights of Ramadan, which includes Laylat al-Qadr, Arabic for the "night of power", which falls within this period.
The last ten days of the month hold particular importance for Muslims, who try to increase and intensify their acts of worship during this period. Ramadan is due to end on Friday 21 April.
It also comes amid heightened tensions, with Israeli police forces earlier this month removing Palestinian worshippers from Al-Aqsa Mosque in occupied East Jerusalem as they observed the holy month of Ramadan.
Israeli forces regularly empty Al-Aqsa Mosque of Palestinians outside the five Muslim prayer times, especially overnight and after the dawn prayer, to ensure a smooth incursion of Israeli settlers.
Temple Movement groups, which facilitate the incursions and advocate for the destruction of Al-Aqsa, have called for mass stormings throughout the week-long Passover holiday which started last week.
According to decades-long international agreements, known as the status quo, Al-Aqsa Mosque is an Islamic site where unsolicited visits, prayers and rituals by non-Muslims are forbidden.
Israeli groups, in coordination with Israeli authorities, have long violated the delicate arrangement and facilitated daily raids of the site and performed prayers and religious rituals without permission from Palestinians or Jordan, which is the custodian of Islamic and Christian sites in Jerusalem.
Israeli forces meanwhile restrict who can enter Al-Aqsa Mosque and when they can go inside, which is an infringement on their religious freedom.