Jangal-e Abr: getting lost in magic of a foggy forest
April 24, 2023 - 18:3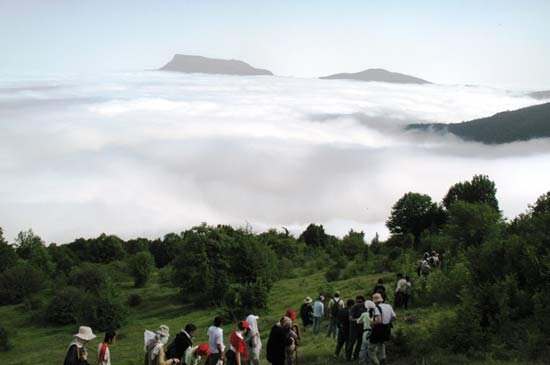 TEHRAN - Walking inside a dense forest, where the sound of birds fills the air and a fresh smell of the forest surrounds you in a blanket of fog, is an inspired choice to reconnect with nature.
Situated in Iran's Semnan province, Jangal-e Abr (literary meaning Cloud Forest), is one of such magnificent destinations where dense fog and misty clouds often cover the trees to yield a mystifying atmosphere.
The forest boasts a diverse array of wildlife, comprising animals such as wild boars, lynx, Persian leopards, and gray wolves. It also has tens of plant species, with some being extremely rare and unique to the region.
Jangal-e Abr is a place where its visitors can have different experiences, including hiking trails that take you deep into the forest, and adventure activities that include rock climbing and zip-lining. The forest is surrounded by several stunning waterfalls, which add to the area's natural beauty.
The trees in the forest are so tall that their tops are often shrouded in mist, making it appear as if they disappear into the clouds. Much of this vegetation is unique to the area.
The forest's altitude also provides a cool climate throughout the year, making it ideal for those seeking refuge from the typically hot Iranian summers. The forest is perfect for picnics and camping, with several designated areas for visitors to pitch their tents.
Inside the thick forests, you cannot believe that you are in Semnan province, not far from Iran's Central Desert and Khar Turan National Park, a biosphere reserve. Right there you will realize why Shahrud, a nearby ancient city, is called "a small continent."
A few hours before the sunset, when temperatures fall, clouds rush into the forest. The settling clouds are so thick that it seems you are walking on them. The forest which stretches on an expanse 35,000 hectares in area is part of the ancient Caspian Hyrcanian forests which have encircled the northern slopes of the Alborz Mountain like a belt, covering the southern coasts of the Caspian Sea.
The forest, which is situated at a high altitude from sea level, has low temperatures in hot seasons. Abundant springs flow in the forest, which is all but unique because of its diverse vegetation ecology.
You may feel a sense of coolness, freshness and aroma which are associated with the proximity of the clouds to your face, something which turns into raindrops on your eyes and hair.
Midway through the night, the clouds begin to pack their bags, so to speak. It is the time when the surrounding valleys become clearly visible. The clouds keep drifting around. Valleys get full of clouds and then become empty. Fast-moving clouds make the jungle look like the lab of an alchemist.
The forest is full of steep hills, and a river runs in there. Summer is the best time to tour the forest, and the best time to take photos is in the morning.
AFM