Iran, Russia poised to comprehensively boost ties: envoy 
April 24, 2023 - 23:21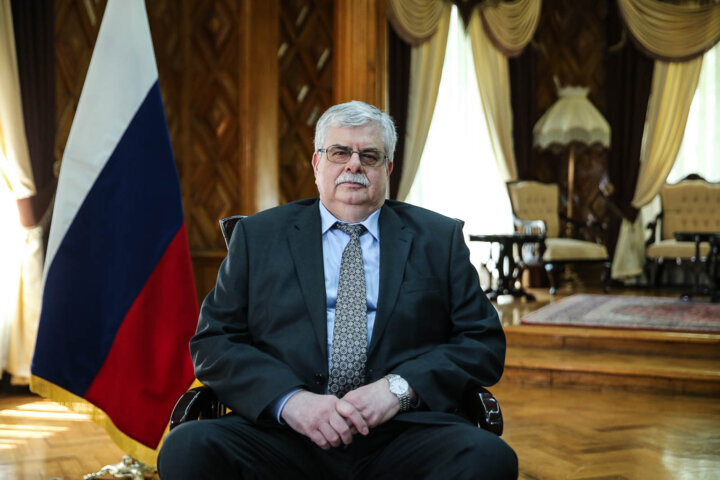 TEHRAN - Russian Ambassador to Iran Alexey Yurievich Dedov has said that Moscow and Tehran are willing to strengthen their relations in various areas.
In an interview with Iran's official news agency IRNA published on Monday, Dedov praised the dynamics of relations and cooperation between Iran and Russia, noting that Tehran-Moscow cooperation is developing in many directions.
He also praised the level of contact between the various officials of Iran and Russia. According to the Russian ambassador, Tehran and Moscow now enjoy a multifaceted relationship that includes many areas of cooperation such as economy, culture, sports, etc.
"On economy, bilateral trade and economic exchange figures are quite good. For example, growth in trade ties was 40% in 2021 and it was 20% last year when our trade turnover reached nearly $5 billion or slightly less. In fact, to be precise, it was $4.86 billion. Of course, the Russian-Iranian Inter-governmental Commission is playing the leading role in this process. The commission is led on our side by Deputy Prime Minister Alexander Novak and on the Iranian side by Oil Minister Javad Owji. A very fruitful round of commission talks was held in late October and in early November in the Russian city of Grozny," he said.
He added, "As for the priorities in bilateral ties, I think we should continue to develop cooperation across all fields. Of course, I agree with the opinion of our Iranian partners who say they are satisfied with the level of political cooperation between the two countries. However, they encourage us and officials in Iran to put more emphasis on economic ties and there are some additional works to be done to further improve the direction of ties between the two countries. The annual trade figure of $5 billion is of course not enough and the potential of our countries is much higher."
Responding to a question on the long-term bilateral agreement between Iran and Russia that is being worked out, the ambassador said, "Quite intensive work is being done on this agreement. The process is being supervised by leaders and ministers of foreign affairs of Russia and Iran. Of course, I would not disclose the precise contents of these documents until they are signed and finalized. However, I can say that it will be a very, very solid agreement, which covers almost all aspects of cooperation between Iran and Russia. Our presumption is that such agreements should give long-term and additional dynamics to the development of cooperation between the two countries, which, as I said, is multifaceted. It will be a very comprehensive and solid document that will serve the long-term prospects of cooperation between the two countries."
Russian presidential aide Igor Levitin paid a visit to Iran in April. In Tehran, he met with Vice President Mohammad Mokhber, Secretary of Supreme National Security Council Ali Shamkhani, Transportation Minister Mehrdad Bazrpash as well as meetings in the Iranian parliamentarians.
Dedov said these meetings was "very good and substantial."
"And the main topic was the International North-South Transport Corridor (INSTC). As you know, it leads from Russia, from the region of Baltic Sea, from Leningrad to India, via the territory of Iran. There are three routes, the western route which is located along the western side of Caspian Sea, the direct route which goes through the Caspian Sea and the eastern route. Of course, all three routes pass through the territory of Iran to the port of Bandar Abbas and from there by sea to India. But the current focus of efforts on the INSTC is to make the best use of the western route and the key to this is to build a railway from Azerbaijan's Astara to Iran's Astara and to continue it to the city of Rasht in northern Iran. Rasht is already connected through a railway to Qazvin and to the wider railway network in Iran. So the construction of Astara-Rasht railway would make it possible to transport cargo from Leningrad to Bandar Abbas via rail links which will save a lot of time," he said.
The Russian diplomat also welcomed the thaw in Iran-Saudi relations and the normalization between several Arab states with Syria. He also welcomed the important role China played in parching up Iran-Saudi relations.
"We monitored the primary agreements reached between secretaries of security councils of Iran and Saudi Arabia in their meeting in early March in Beijing as well as a following encounter in China between two ministers of foreign affairs, Mr. Amir Abdollahian and Mr. bin Farhan. This is a positive development and we welcome it. Western countries feel disappointed with the normalization because they considered the former status quo in relations between Iran and Saudi Arabia to be favorable to their political objectives. In fact, they were satisfied with confrontation between Iran and Saudi Arabia and they became disappointed by the fact that such confrontations have come to an end," he noted.
Dedov also commented on Iran and Russia's interest in de-dollarization. "As you know our economy, like the Iranian economy, is under sanctions. So, under such conditions, trying to de-dollarize our external trade is quite, I think, a logical decision. We should take into consideration the difficulties the countries face in dollar transactions because of the sanctions. It concerns not only Russia and Iran but our trade partners. We are actually taking into account the political situation as we think that the de-dollarization process will continue and will expand. It will weaken the United States' position as the unique holder of an instrument that settles international payments. We think this process will expand. Even the French president announced recently that Europe should reduce its dependence on the dollar."
The Russian ambassador also said that the Iran-Russia agreement to launch official financial messaging systems (SEPAM and SPFS) is a "very positive process."
He said, "We are now prioritizing financial and banking cooperation with Iran, given our common focus on ensuring the sustainability of bilateral payment and settlement systems, without considering intermediaries from other countries. Work on the creation of a sustainable payment and settlement system is continuing through relevant government agencies and we seriously hope that it will bring practical results."