President pays two-day visit to Khuzestan 
April 28, 2023 - 19:12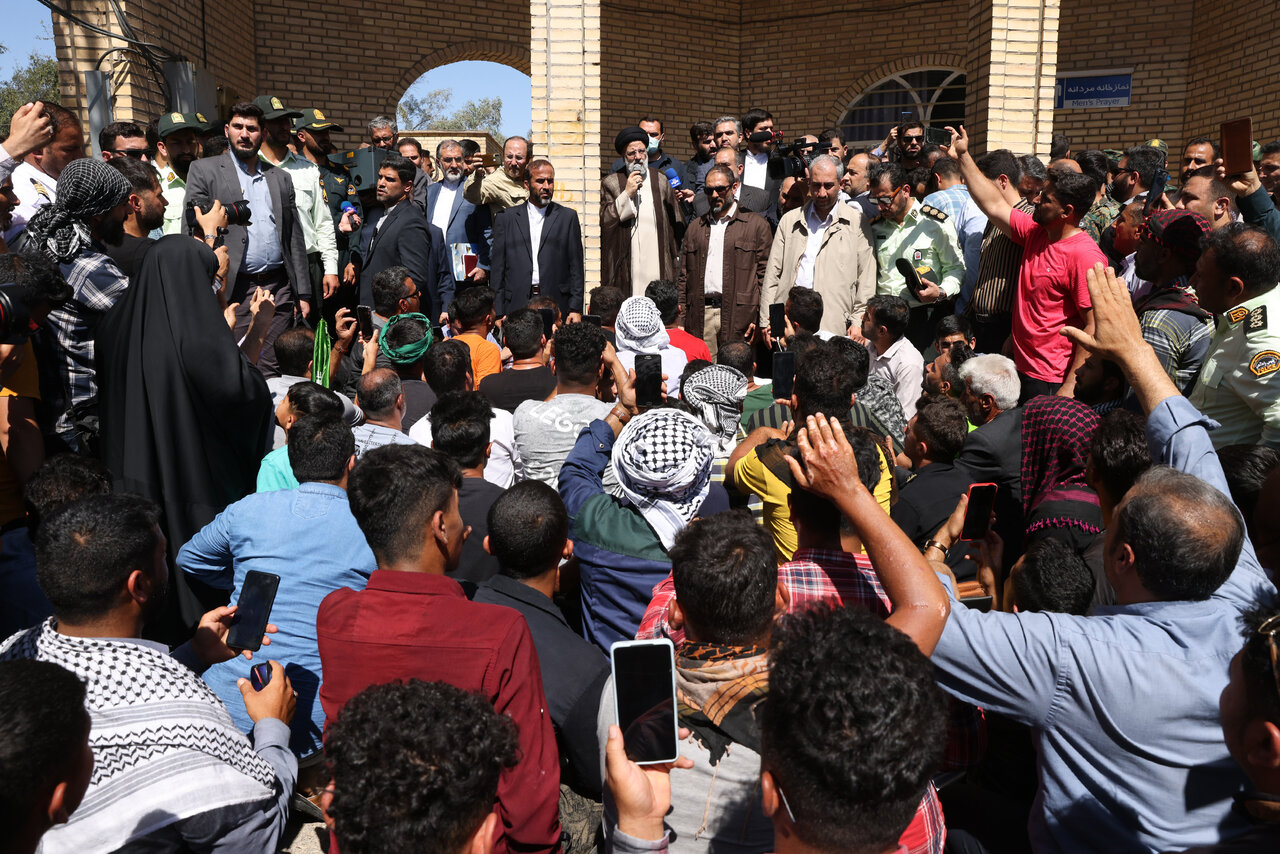 TEHRAN –President Seyed Ebrahim Raisi visited Khuzestan Province on Thursday morning as part of his second round of provincial trips. 
Upon his arrival in the border province, President Raisi told reporters that the young people of Khuzestan should not suffer from unemployment. "The government is looking to solve the problems of the province by considering the many facilities and capacities of Khuzestan," he said, according to the official website of the Iranian presidency.
In Khuzestan, the president visited several cities such as Dezful, Andimeshk, Ahwaz, Karun, and Shadegan. He also visited several projects in the oil-rich province.
Raisi delivered a speech before a group of Ahwazi people on Thursday afternoon. "Iran is indebted to Khuzestan, and today the whole country, especially we the officials, must pay our respects to this province and its loyal and resistant people," he said.
Underlining that God has placed many capacities in Khuzestan, and one of the most important of these capacities is the province's young, competent workforce, Raisi said, "I said at the beginning of the Popular Administration in Ahwaz, and I still say today, that the issue of creating employment and eliminating unemployment is one of the priorities of the province."
The president emphasized that the managers and officials of the province should always give priority to the local forces in employing the forces, and stated, "Creating employment is one of the priorities of the Popular Administration, and in this regard, the responsibility is not only on the Ministry of Cooperatives, Labour and Social Welfare, but all the parts of the country should feel responsible."
Raisi noted, "If necessary, I will travel to Khuzestan 70 times to solve the problems of these people, and if the problems of people of Khuzestan are not resolved, I will not rest."
Addressing the people of Khuzestan, he said, "I have the same promise that you people of Khuzestan have with the religious jurist, the Revolution. This is not about vote, in our religious culture and cultural system, the place of covenant is much higher than vote, and just as you people are faithful to your covenant with the system and Revolution, I am also faithful to my covenant with you."
Raisi stated that the provincial managers and the relevant government managers should make a jihadist effort to fulfil the employment quota of Khuzestan, adding, "The Popular Administration is trying hard to make up for the backwardness in Khuzestan, and for example, the work done during the period of this government in the sewage field is equal to the work done in the last 30 years, and instead of 12 work fronts in the past, today 150 work fronts have been activated in the implementation of the sewer plan."
Referring to the implementation of water supply plan for 1,700 villages in the country, and the plans related to 174 villages in Khuzestan that were put into operation on Thursday, he stated, "In the past year, as many power plants as the entire period of the 12th Administration have been built, and in the field of solving infrastructural deficiencies, jihadist activities are being carried out in the country."