Vietnamese envoy visits Isfahan to cement closer ties
May 2, 2023 - 21:15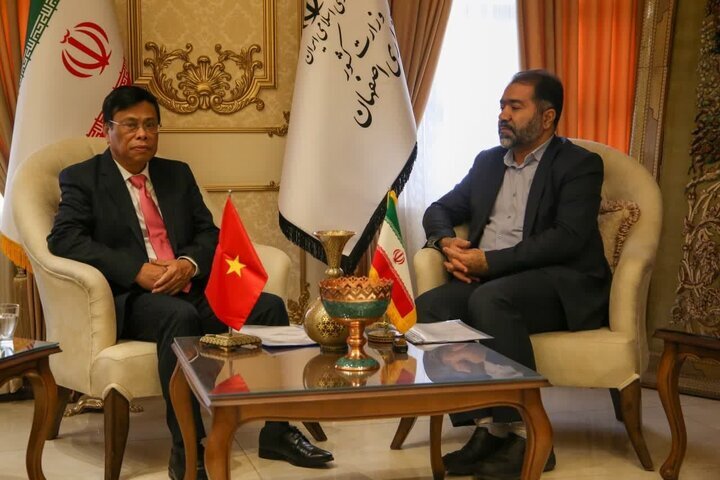 TEHRAN – Vietnamese ambassador to Iran, Luong Quoc Huy, has met with Isfahan's governor-general Seyyed Reza Mortazavi to discuss ways to deepen cultural ties.
Visiting the ancient city of Isfahan, Huy, and Mortazavi on Sunday exchanged views on challenges and opportunities related to tourism as well as initiatives such as fostering sister city relationship with Ho Chi Minh City, IMNA reported.
Mortazavi said Isfahan is ready to play a role to help develop relations between the two countries. "At this time, we require a comprehensive strategy to ensure that the two nations' relations will prosper in various areas… I hope that Isfahan's contribution helps relations to grow stronger."
"I hope that the circumstances created by these trips will allow for extensive political, cultural, and economic exchange," Mortazavi said.
Moreover, the governor-general urged the envoy to ask the Vietnamese authorities to travel to Isfahan and learn about this province's capabilities, adding: "We believe that anyone who visits Iran but does not visit Isfahan has not truly experienced the country."
Elsewhere in his remarks, Mortazavi said that Isfahan had previously presented the proposal of sisterhood with Ho Chi Minh City. "We drafted that proposal with the Vice Speaker of the Vietnamese Parliament during his visit to Isfahan."
For his part, Huy expressed his satisfaction at being in Isfahan and said: "It is an honor to hear the description of Isfahan from its governor-general."
"I love Isfahan very much as it's rich in cultural heritage and treasured handicrafts," the ambassador said.
Referring to diplomatic relations between Iran and Vietnam, the envoy: "The [diplomatic] relations between the two countries started in 1973 and now we are preparing to celebrate the 50th anniversary of these relations."
The ambassador attached also great importance to economic cooperation between the two countries, saying: "I believe that economic cooperation is not currently at an acceptable level, therefore [formation of] a joint commission and [closer] connection of entrepreneurs between the two countries can be very effective."
Moreover, the envoy described Isfahan as a green, immense, attractive, and dynamic city, and said: "I believe that the authorities of Ho Chi Minh City hail establishing closer relations with Isfahan, and if you declare your readiness, we will expand this connection."
Isfahan was once a crossroads of international trade and diplomacy in Iran and now it is one of Iran's top tourist destinations for good reasons. Isfahan has long been nicknamed as Nesf-e-Jahan, which is translated into "half the world"; meaning seeing it is relevant to see half the world.
It is filled with many architectural wonders, such as unmatched Islamic buildings, bazaars, museums, Persian gardens, and tree-lined boulevards. Some say Isfahan is a top destination for those who love walking, getting lost in its labyrinthine bazaars, dozing in beautiful gardens, and meeting people.
AFM