"The Wolf-Leader" comes to Iranian bookstores
May 14, 2023 - 18:56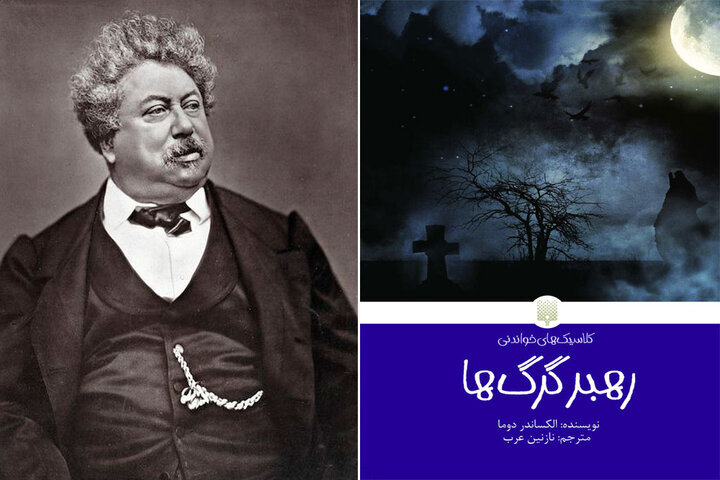 TEHRAN – A Persian translation of Alexandre Dumas' book "The Wolf-Leader" has recently been published by Peydayesh.
Nazanin Arab is the translator of the 1857 fantasy novel.
Alexandre Dumas, whose works have been translated into nearly 100 languages, is one of the most widely-read French authors. Many of his historical novels of high adventure were originally published as serials, including The Count of Monte Cristo, The Three Musketeers, Twenty Years After, and The Vicomte de Bragelonne: Ten Years Later.
His novels have been adapted since the early twentieth century for nearly 200 films. Dumas' last novel, The Knight of Sainte-Hermine, unfinished at his death, was completed by a scholar and published in 2005, becoming a bestseller.
The story of "The Wolf-Leader" is set around 1780 in Dumas' native town of Villers-Cotterets, and is supposedly based on a local folk-tale Dumas heard as a child.
The story concerns Thibault, a shoemaker, who is beaten by the gamekeeper of the Lord of Vez for interfering with the lord's hunting.
Afterwards, he encounters a huge wolf, walking on its hind legs like a man, who offers him vengeance; Thibault may wish harm on any person in return for one of his own hairs for each wish.
To seal the agreement, the two exchange rings. As a result of this bargain, he also finds himself able to command the local wolves, and hence gradually gains the reputation of being a werewolf.
Photo: A combination photo shows Alexandre Dumas and the front cover of the Persian edition of his novel "The Wolf-Leader".
MMS/YAW