Venezuelan minister launches Persian translation of his book in Tehran 
May 20, 2023 - 18:17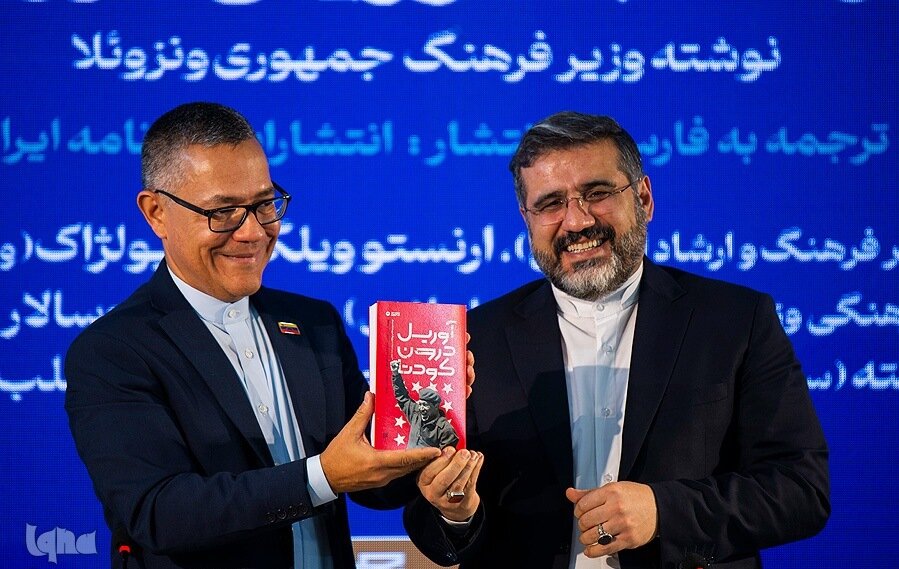 TEHRAN – Venezuelan Culture Minster Ernesto Villegas Poljak launched a Persian translation of his book "April, Inside the Coup" in Tehran on Friday.
The book launch celebration held at the Tehran International Book Fair was attended by Iran's Minister of Culture and Islamic Guidance, Mohammad-Mehdi Esmaeili and several other Iranian officials.
Published in 2010, "April, Inside the Coup" ("Abril Golpe Adentro") is a journalistic essay that narrates the events surrounding the coup against President Hugo Chávez Frías on April 11, 2002 and his return to power not yet forty-eight hours after his overthrow.
Villegas Poljak was the editor-in-chief of the daily newspaper Ciudad Caracas and also wrote for El Nuevo Pais, Economia Hoy, El Universal, Ultimas Noticias, and several other dailies.
From 2001 to 2008, he served as a head anchor on the daily television show "En Confianza", while also writing for the daily El Universal, a position he resigned after the 2002 coup. He is the co-author of "El Terrorista de Bush" ("Bush's Terrorism"), a book about Luis Posada Carriles.
Speaking at the book launch celebration, Villegas Poljak said that he is pleased about the publication of the Persian edition of his book.
"Seven years after the abortive coup against Mr. Chavez, the West wrote a book about this event; this coup still continues in different ways, only the plotters change; it is imperialism supporting all of them," he explained.
Esmaeili suggested translating "April, Inside the Coup" in March during his visit to the International Fair of Venezuelan-Iranian Culture and Friendship in Caracas.
The book was translated and published at Iran, a state-run Persian daily.
"I was really surprised that the translation team rendered the book so fast," Villegas Poljak said and added that he is keen to conduct an interview with the Leader of the Islamic Revolution, Ayatollah Seyyed Ali Khamenei.
He also invited his Iranian counterpart to attend the International Book Fair of Venezuela (FILVEN), which will take place in Caracas in November.
He also asked for Iran's cooperation with Venezuela on cinema and other cultural topics.
Earlier in March, the Spanish translation of Ayatollah Khamenei's autobiography "Cell No. 14" ("Celda No. 14") was launched in the Venezuelan capital of Caracas.
Photo: Venezuelan Culture Minster Ernesto Villegas Poljak and his Iranian counterpart, Mohammad-Mehdi Esmaeili, hold a Persian copy of his book "April, Inside the Coup" at the 34th Tehran International Book Fair on May 19, 2023. (IQNA/Amir-Mohammad Khazaei)
MMS/YAW