Tehran, Ankara sign banking, trade MOUs
April 10, 2016 - 18:49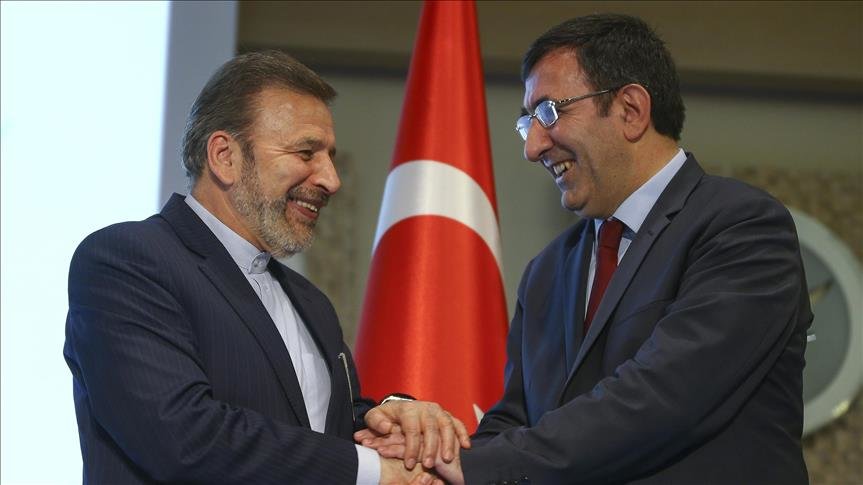 TEHRAN- Iran and Turkey signed three memorandums of understanding (MOUs) for banking and trade cooperation at the end of their 25th joint economic committee meeting, which was held in the Turkish city of Konya on Saturday.
Iranian Communications and Information Technology Minister Mahmoud Va'ezi signed an MOU on trade cooperation with Turkish Development Minister Cevdet Yilmaz.
Another document was signed by Va'ezi and Yilmaz, aiming to start a new chapter in bilateral banking ties between the two neighboring countries in post-sanctions era.
The third document was signed between Iran's Chamber of Commerce, Industries, Mines and Agriculture (ICCIMA) and the Union of Chambers and Commodity Exchanges of Turkey, named Turkiye Odalar ve Borsalar Birligi (TOBB).
Turkey looks to improve trade with Iran
"Turkey will boost its trade volume with Iran as soon as possible, as export levels in March showed an increase. In 2015, we had a $10 billion trade volume and we will look to increase it to the $30 billion level," the Turkish news agency Anadolu quoted Yilmaz as saying in the meeting.
A third of trade between Turkey and Iran is now conducted in the Turkish lira or the Iranian rial, the Turkish official added.
Trading in local currencies rather than the U.S. dollar benefits the trading nations as it avoids exchange rate losses, reducing trade costs.
"We made some great progress and would like to add to it in the next period. We will continue to make trading easier by adding 30 more products to the protocol we will sign today," Yilmaz noted.
Turkey was the fourth largest exporter of non-oil goods to Iran in the past Iranian calendar year which ended on March 19, 2016, while in its preceding year (March 2014-March 2015) Turkey was the 6th major importer of Iranian non-oil goods.
The two countries also maintain close energy ties. Turkey is one of the major customers of Iranian gas and imports 10 billion cubic meters of the product from Iran every year.
EF/MA