Iran, Kyrgyzstan sign 4 MOUs on economic cooperation
May 15, 2016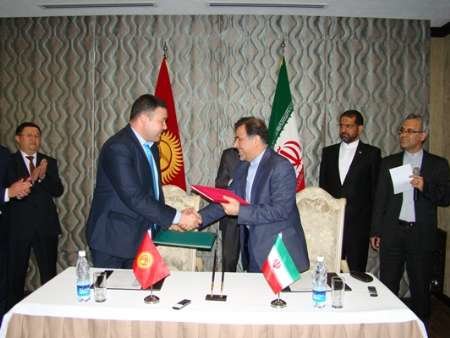 TEHRAN- Iran and Kyrgyzstan signed four memorandums of understanding (MOU) on economic cooperation during the 11th meeting of Iran-Kyrgyzstan Joint Economic Committee in Bishkek, IRNA reported on Saturday.
Signed by Iran's Transport and Urban Development Minister Abbas Akhoundi and his Kyrgyz counterpart Aydarov Zamirbek Kazakbaevich, the cooperation documents focused on establishment of an investment joint council, combating money laundering, energy cooperation, ten-year economic cooperation, boosting mutual trade, holding common exhibitions, backing foreign investments and providing incentives for applicant investors, extraterritorial cultivation, as well as further educational and scientific cooperation.
The Iranian minister also visited Kyrgyzstan's President Almazbek Atambayev and some other Kyrgyz senior officials during his stay.
The 10th meeting of Iran-Kyrgyzstan Joint Cooperation Committee was held in Tehran five years ago.
Iran and Kyrgyzstan have expanded their bilateral ties and mutual cooperation in different fields since independence of the Central Asian state in the 1990s.
In June 2015, Iranian President Hassan Rouhani in a meeting with the new Kyrgyz Ambassador to Tehran, Asanbeyk Osman Aliyev, underlined the need for further expansion of Tehran-Bishkek relations.
HJ/MA