Iran, UNEP sign environmental joint plan of action
May 27, 2016 - 18:25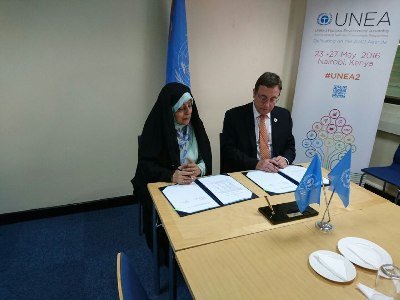 TEHRAN — The chief of the Department of Environment, Masoumeh Ebtekar, and the United Nations Environment Program (UNEP) Executive Director Achim Steiner signed a joint plan of action on Friday, IRNA news agency reported.
The two officials signed the document on the sidelines of the second United Nations Environment Assembly (UNEA-2) held on May 23-27 in Kenya.
Hazardous waste management and promoting collaborative researches are of the main subjects of the plan.
Holding regional workshops, easing information exchange, and conducting joint researches on e-waste are of the other topics of this document.
Regional conflicts a barrier to international cooperation
In addition to the signing of the agreement, Ebtekar followed up plans on combating sand and dust storms haunting many cities in Iran and the whole region in UNEA-2.
In a meeting with Shamshad Akhtar, the Executive Secretary for UN Economic and Social Commission for Asia and the Pacific (ESCAP), Ebtekar regretted that regional conflicts in the Middle East has created a barrier to international cooperation for resolving dust storms.
"The conflicts have minimized cooperation or in some cases made it impossible," she lamented.
Thanking Akhtar for ESCAP's adoption of the resolution on combating sand and dust storms submitted by Iran she emphasized on the importance of the regional cooperation to solve the matter.
Soil erosion, deforestation, land degradation, drying lakes and lagoons and climate change are of the issues affecting dust storms, she said, adding, "we have come up with a scientifically justified and practical plan to fight dust particles."
Akhtar also proposed for a regional conference led by Iran on the dust particle.
In respond to Akhtar's suggestion Ebtekar said that the conference can be held concurrent with ESCAP's sub-regional office opening in Iran in September 2016.
According to DOE website, in line with activities to stop dust storms a meeting with Iranian and Mongolian experts and also specialists from University of Oxford was held on Thursday.
UNEP to establish an office in Iran
Over a meeting with Erik Solheim, the executive director of the United Nations Environment Program (UNEP), Ebtekar asked for establishment of a UNEP office in Iran.
Solheim expressed readiness to cooperate with Iran and made a pledge to follow through the establishment of a sub-regional office in Iran.
MQ/MG