Iran wins Asian Snooker Championship
May 28, 2016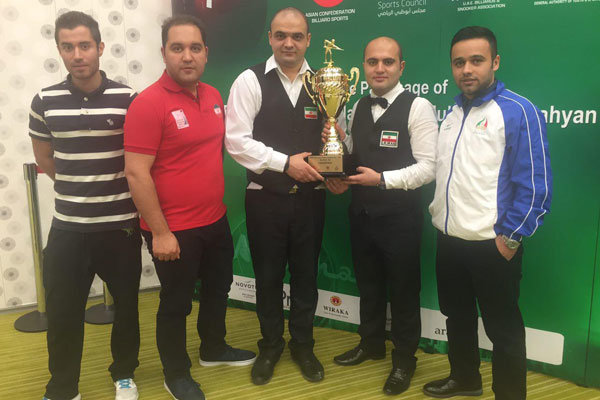 Iran shocked India 3-2 (53-65, 54-7, 77-1, 64-69, 74-40) to clinch the final of the Asian Snooker 6-Reds Teams Championship at Novotel Al Bustan Hotel in Abu Dhabi on Thursday night.
Going into the match, Indian pair of Pankaj Advani and Aditya Mehta was the firm favorites against semi-professionals' Amir Sarkhosh and Soheil Vahedi.
The title clash saw leaders changing hands in every frame. Also, each game saw many winners not getting converted. Vahedi was the difference-maker in the final, which was an edge-of-the-seat-thriller.
"This was one final, I was not going to lose," Vahedi told Khaleej Times with trophy in his hand.
Iran started off well with Sarkhosh playing Mehta. It was an even contest that set the tone for the rest of the game. Mehta used all his experience to hold nerves for a 65-53 win. In the second frame, Vahedi bundled up 6-red snooker world number 1 Advani 54-7. In the third, the doubles games saw all the four men on the table. And this saw Vahedi looming large over the Indian pair to single-handedly secure a 77-1 win.
With 2-1 Iran advantage, the fourth frame saw an enticing contest between Advani and Sarkhosh. With all red balls in, the two had at least 10 testing rounds to pot the yellow. Also, Sarkhosh had an opportunity to 'kill the game' while leading 64-51, he missed an easy brown. Advani jumped on the opportunity to seal the fourth frame.
And in the decider, Mehta started off well but a confident Vahedi never offered an inch. Mehta could have turned it around but he missed an easy brown while trailing 40-69. Thereafter, Vahedi went onto hit the final nail.
"It was an honor to play against Advani, the world champion. I had played him once last year in Malaysia and he had won on the last black," Vahedi pointed out.
On his partner having an off day, he said: "Yes, Sarkhosh could have killed the game earlier but then we have won. To win the title is a very good feeling."
They are expecting a rousing reception back home and are richer by $6,750.
On the other hand, Advani said: "We didn't play really well and didn't make the most of the chances we got." The Indian pair paid the price for a safety-first approach, but Advani said the Iranians, especially Vahedi was lucky to have got most of his long pots in.
"Some of the shots he tried we would never go for because the percentage of getting those shots right is very low. He was lucky," he added.