Inscription of ornate copy of Quran completed
May 30, 2016 - 18:28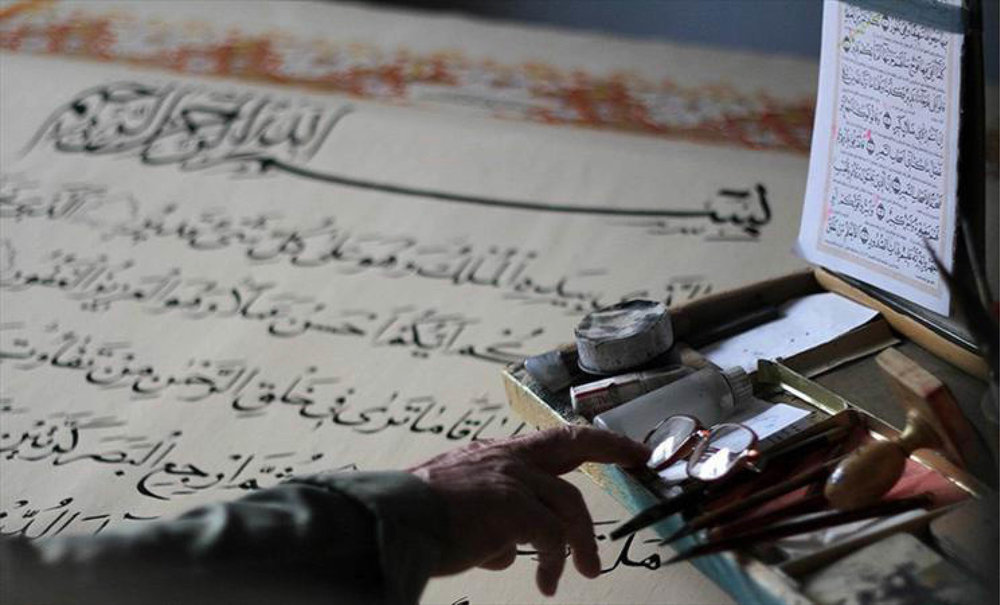 TEHRAN -- A group of Iranian artists has completed the inscription of a copy of the Quran, which is believed to be the most ornately illuminated version of the holy book. 
The copy, with an estimate value of 60 billion rials (over $1.7 million), was financed by the Janfaza family in Isfahan, Mehdi Janfaza, the elder son of the family who is also the manager of the project, under which the book was produced, told the Persian service of Tasnim on Monday.
The family funded the project based on their father's last will and testament, said Janfaza and added that the copy of the Quran is the most ornately illuminated version of the holy book.
Masters of the art of embossing Reza Qaderan and Mohammad-Ali Saei; master illuminator Majid Sadeqzadeh; and preeminent calligrapher Gholamreza Maahrui have spent 18 years completing the copy.
The verses have been inscribed on handmade gilded papers. The artists have used over 1,400 brilliants (gems cut with numerous facets) to embellish a silver cover, which bears the inscription of 120 names of God.
Measuring 57x42 centimeters, the copy of the Holy Quran contains 175 pages, each one enjoying unique designs of illuminations.
The book will be unveiled during the 24th International Holy Quran Exhibition, which will be held in Tehran from June 13 to 28.
The Janfaza family plans to sell the book in a charity event to raised funds to establish an orphanage in Isfahan.
MMS/YAW
END