Rouhani urges women to present socially active Muslim model
June 14, 2016 - 23:38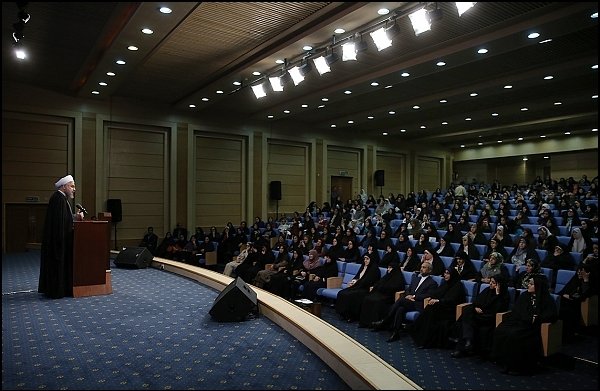 TEHRAN – Iranian President Hassan Rouhani said on Tuesday that the Iranian women's mission is to present to the world a model of socially active Muslim women.
In an Iftar party with women's activists, he stated that the government is highly active in upholding women's rights.
He also said Iranian women have stood for their rights powerfully.
Attaching great importance to women's role as mother, Rouhani added women can play important and active part in the society along with fulfilling their duties as mother.
Rouhani expressed hope that women would play more active role in the Iranian society.
He also said that "moderation" has been the slogan of the current government.
Equality between men and women is one aspect of moderation, he added.
Elsewhere, he noted that Iranian women have social, political, and economic rights and women's participation in the society and doing activities do not run counter to their duties as mother and wife.
Finally, Rouhani said women's presence and help are very important for the country's development and even implementing the resistance economy.
Out of the 290 seats up for grabs in the February parliamentary elections in Iran, 17 were secured by women, a record in itself.
NA