Intelligence chief says Iran's foreign policy not dependent on individuals
June 21, 2016 - 20:38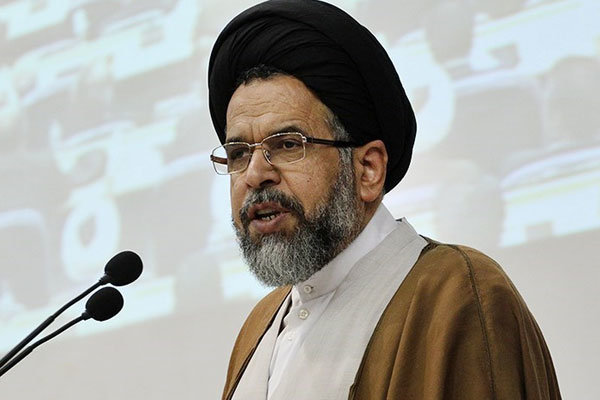 TEHRAN – The Iranian intelligence minister has said Tehran's foreign policy does not pivot around individuals, responding to recent Foreign Ministry appointments.
Mahmoud Alavi made the remarks on Tuesday in a press conference after he briefed the Iranian parliament behind closed doors on security issues.
Foreign Minister Mohammad Javad Zarift named on Sunday Foreign Ministry spokesman Hossein Jaberi Ansari as his deputy for Arab and African Affairs, replacing Hossein Amirabdollahian.
Zarif also appointed Bahram Qasemi, former ambassador to Ireland, Italy, and Spain, as the Foreign Ministry's new spokesman.
"A change in individuals does not mean a change in policies," said Alavi.
Curiosity was particularly aroused over Amir-Abodollahian's relegation to foreign minister's advisor as he was one of the key players in Syrian and Iraqi affairs, both important for Tehran.
While the appointment was out of blue, Iranian and foreign sources linked it, inter alia, to Zarif's get-together with his American counterpart John Kerry on the sidelines of the Oslo Forum 2016 in Norway.
During the meeting Zarif had signaled that he had more authority on the Syria file than any times before, and that Iran may be prepared to show more flexibility to advance a political solution, said Al-Monitor.
The news, however, drew immediate disproval of the Iranian Foreign Ministry which rejected any shift in its Syrian agenda.
Relevant to this, a group of Basij students from six universities in Tehran issued an announcement, attributing the replacement to talks between Zarif and Kerry in Oslo, calling Zarif to act based on non-partisanship.
Also, to some analysts, without Amir-Abdollahian, Tehran will have a less bumpy road to reconciliation with Arab countries, notably Saudi Arabia and Qatar.
Javan, an Iranian rightist daily, for example, quotes from Almustaqbal as saying in March 2106 that absence of Amir-Abdollahian will be a goodwill gesture to Arab countries.
Mahmoud Alavi's comments seems to hold true to a great extent as any change of tack in Tehran's regional and international attitude is subjected to the Leader's green light with or without Amir-Abdollahian.
AK/PA