"I Am Not Salvador" hits silver screens in Turkey 
July 16, 2016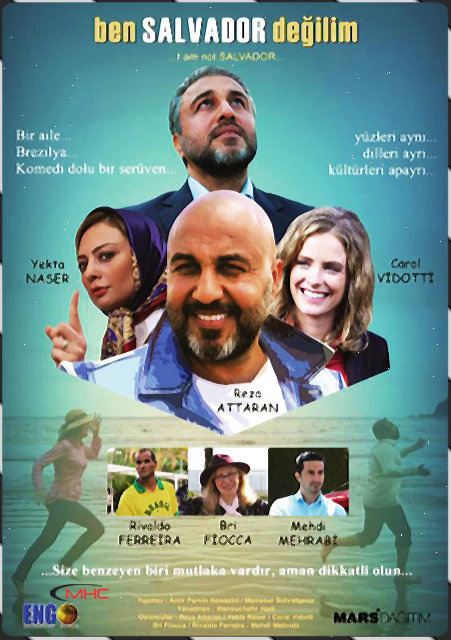 TEHRAN – Iranian filmmaker Manuchehr Hadi's comedy drama "I Am Not Salvador" went on screen at 30 movie theaters in major cities of Turkey on Thursday.
The film with Turkish subtitles will be on screen for one month, Iran's Farabi Cinema Foundation announced on Friday.
In an opening ceremony organized by Iran's Embassy in a theater in Istanbul, the film was screened for a number of Iranian and Turkish cultural figures and officials including leading Turkish historian Ilber Ortayli, Supervision and Evaluation Office (SEO) Director Habib Ilbeigi, and cineastes Habib Esmaeili, Amir Parvin Hosseini, Mansur Sohrabpur and Mehdi Mehrabi.
Professor Ortayli praised Iranian cultural activities in Istanbul including the film screening sessions, calling them a big step in reinforcing cultural relations between the two countries.
He added that Iranian films, inspired by spiritual and human values, have filled the empty world of the cinema of Hollywood and have been a great help to the world industry of cinema.
Habib Ilbeigi expressed his thanks to the organizers of the event and said, "The Iranian cinema has made good progress since the Islamic Revolution (1979). Iranian films have been honored in most international film festivals, indicating the fact that Iranian cinema has provided a good opportunity for the production of films with rare and invaluable concepts."
Cinetech Mall of Istanbul, Cinemaximum Atakoy Plus, Atakoy Galleria Cinepeople, Cinemaximum Aqua Florya and Cinemaximum Zorlu Center are among the theaters in Istanbul screening "I Am Not Salvador".
"I Am Not Salvador", starring Reza Attaran, Yekta Naser and former Brazilian footballer Rivaldo, tells the story of an Iranian man who is invited to take a trip to Brazil with his family.
According to the report released by the Persian service of ILNA on Saturday, cineastes Esmaeili, Hosseini and Sohrabpur returned home on Friday morning before the Turkish military launched a coup attempt on Friday afternoon.
Ilbeigin's meetings with several managers of Turkish TV channels on Friday afternoon were cancelled due to the coup attempt; however, Ilbeigi is still in Turkey and is reportedly safe and sound in his hotel room in Istanbul.
Photo: A poster for the Turkish premiere of Iranian comedy drama "I Am Not Salvador" by Manuchehr Hadi
RM/YAW