Iran unveils high-speed chopper-carrier vessel
September 14, 2016 - 10:16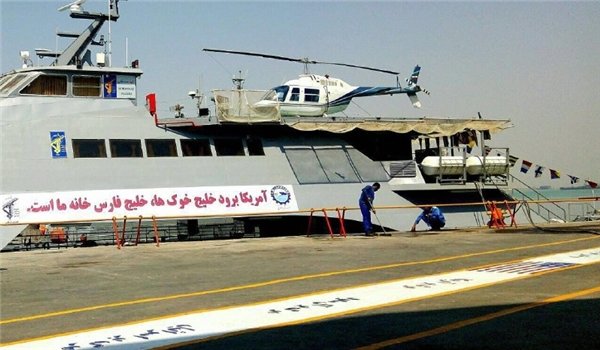 TEHRAN – The IRGC Navy on Tuesday unveiled a new high-speed military vessel with the capability to carry helicopters.
The new vessel, named Shahid Mohammad Nazeri, was unveiled during a ceremony in the southern port city of Bushehr.
Addressing the ceremony, IRGC Navy Commander Ali Fadavi said the 55-meter fast cruising vessel is the biggest Iranian aluminum-hulled ship.
The senior military official said the watercraft, which has been designed and manufactured inside the country, has an operating range of 10,000 kilometers with a length of 55 meters, a width of 14.1 meters, and a height of 13 meters.
Named after an IRGC commander who was martyred in May, the craft is capable of boarding 100 military personnel and a helicopter on its deck in all weather conditions.
"The new vessel will enable the IRGC Navy to be much more present in high seas and oceans," Rear Admiral Fadavi added.
Iran has made great achievements in the production of speed boats and has acquired technical expertise in producing essential military systems in recent years.
Last October, the IRGC Navy brought into service a new torpedo-armed watercraft capable of operating both on and under water.
The domestically-produced watercraft, dubbed Zolfaqar, employs a four-meter-long torpedo which can target aircraft carriers, vessels weighing up to 200 tons, oil platforms as well as load and unload docks.
In May, Fadavi announced that the IRGC has carried out all necessary tests and will soon mass produce modern speedboats that cruise at a speed of 80 knots (148 kilometers) per hour.
In relevant remarks in March, the senior navy commander boasted IRGC's capabilities, saying that Iran is the only country that can design and manufacture this type of speedboats with such high speed.

MH/PA