General: Iran 'firm' to increase military power after U.S.-Israel aid deal
September 21, 2016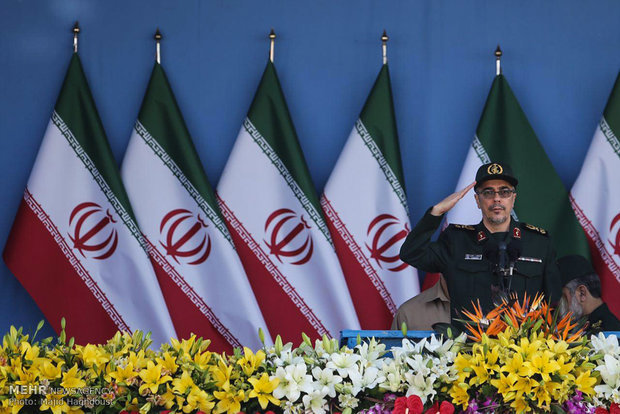 TEHRAN – Chief of Staff of the Armed Forces said Wednesday that Iran's defense capabilities are intended to establish security both inside and outside the country.
In an annual military parade marking the anniversary of Iraq's war against Iran on September 22 1980, Major General Mohammad Hossein Bagheri said Iran's enemies fear its military power.
He also described Iran as a peace-seeking country that had never started a war.
Iran 'firm' to strengthen military power
Elsewhere in his remarks, the top military official said that the $38 billion aid deal that Israel and the U.S. clinched makes Iran more determined to ramp up its military.
Earlier this month, the United States and Israel signed a massive military aid deal under which the U.S. will provide Israel's military with $38 billion during the next 10 years.
The top commander added that Iran is able to respond very quickly and decisively to any threats imposed on the country by its enemies.
'Washington must end its presence in the Persian Gulf'
Addressing the parade, IRGC chief Major General Mohammad Ali Jafari called on Washington to end its "malicious and harmful" naval presence in the Persian Gulf.
"Following the Leader of the Islamic Revolution, we, likewise say to the Americans that they should stop wasting American taxpayers' money in the Persian Gulf and look the other way, towards the Bay of Pigs to show off their military power," Jafari said, referring to the Bay of Pigs invasion, a failed military invasion of Cuba undertaken by the CIA-sponsored paramilitary group Brigade 2506 in 1961.
Jafari further said, "The Persian Gulf is our home, and we're very sensitive about the enemy's presence in our vicinity."
He also said the move to assign the IRGC the task of establishing security in the strategic Persian Gulf has been a wise decision.
'Iran's security must never be neglected'
Mohsen Rezaee, the former IRGC chief who has rejoined the force, also described the Iranian security as a vital issue that must never be neglected.
"If we want to progress and peace, we must first establish security," Rezaee said.
The secretary of the Expediency Council also criticized Saudi Arabia for its policies, saying that "Iran will disarm Saudi Arabia through legal and Islamic channels."
MH/PA