Iran, Singapore agree to enhance banking ties
October 26, 2016 - 8:43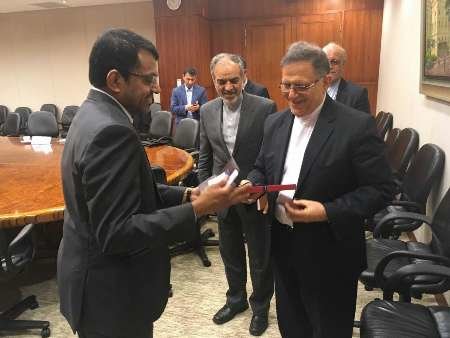 TEHRAN– Valiollah Seif, the governor of Central Bank of Iran (CBI), and Ravi Menon, the managing director of Central Bank of Singapore, agreed on cooperation for the enhancement of banking ties, IRNA reported.
Iran's central banker, visiting Singapore at the head of a delegation, held talks with Menon on Tuesday and also met with Iranian Envoy to Singapore Javad Ansari.
During the meeting, Seif voiced CBI's readiness to support the two countries' banks for mutual cooperation.
The official also mentioned the rightful demands of businessmen and entrepreneurs of the two countries for the use of banking services in order to settle business deals and said, "The need for various services, including opening letters of credit and issuing banking guarantees is inevitable to avoid any potential risks for businesses."
He further noted that Iran's international banking activities are in total compliance with international standards and regulations but lack of understanding about the status and performance of Iranian banks has caused some concerns.
"The two sides' central banks should start constructive cooperation to resolve such concerns," he suggested.
Menon for his part expressed Singapore's readiness to start banking relations with the Islamic Republic of Iran. "Central Bank of Singapore only follows the UN resolutions and other sanctions like the U.S. Treasury's will not come into force," he said.
He also asked for more meetings between the two sides to resolve any ambiguities.
Earlier in February, Singapore issued a directive instructing its banks to lift the sanctions which the country had imposed on Iran's banking operations in 2012.
EF/MA