By Haniyeh Sadat Jafariyeh
Germany-Iran economic ties unfazed by Trump presidency: ministers
November 15, 2016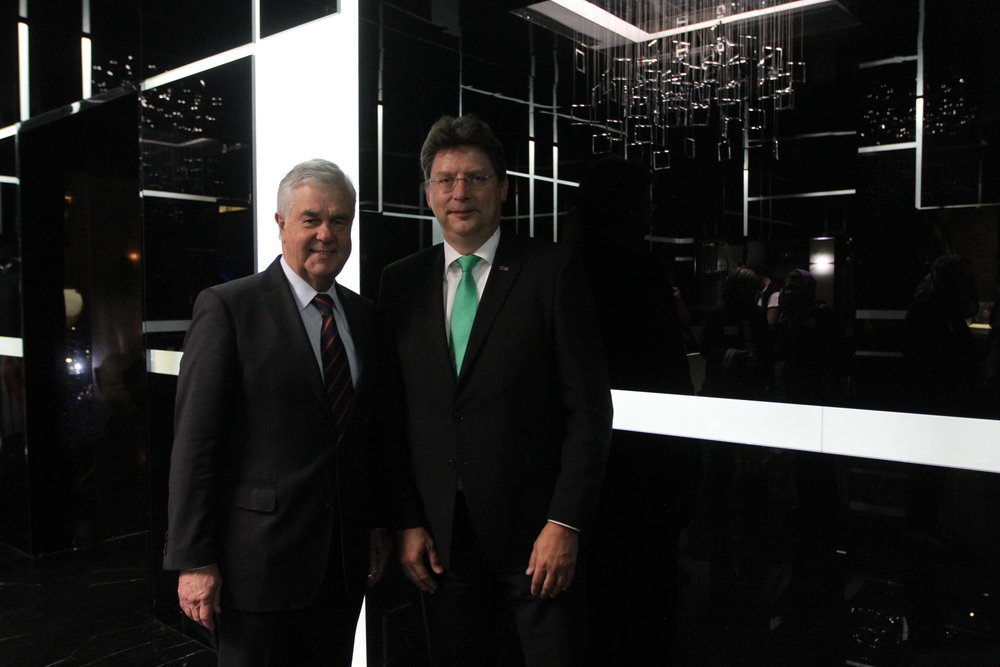 On Sunday night, the Tehran Times sat with Minister for Economic Affairs, Employment, Transport and Technology of Germany's Schleswig-Holstein state, Reinhard Meyer, and Minister of Economy, Transport and Innovation of Hamburg state, Frank Horch, to get their points of view about the current and future bilateral economic ties with the Islamic Republic of Iran.
As they elaborated, they were leading a delegation of 60 people from political administration of the two regions, namely Hamburg and Schleswig-Holstein, as well as a number of representatives from German business companies to Iran.
Answering a question about the impact of Donald Trump's win in the U.S. presidential election and his impression on Germany-Iran ties, both ministers emphasized that it will have no special impact on the future of the two countries' relations.
"I think the nuclear treaty is not only with the United States, it is the treaty with another five states. I think, for Europe it is clear that we have such treaty and we do not [have] the sanctions and it is a chance for Europe to have our own position," Meyer noted.
Horch, for his part, said, "I would like to point out that German delegations are deeply prepared, we don't say hello and then bye-bye, we know for what we are coming. We do not just discuss things we also fulfill them. We build projects to have a win-win situation. I know the world and we know the things in America. That is not the America alone, that is Europe, that is Germany and all of them are the partners in the contract. I am optimistic and I will do everything from our side to support the relation with Iran."
Hamburg, Schleswig-Holstein eager to enhance ties with Iran
Asked about the purpose of their visit to Iran, Meyer said that "it is very important to have a good contact with Iran after the sanctions, we can see a change in our relations [but] the biggest problem is financing and banking contacts. Next week, in Berlin, there is a high level speech with the German ministry of economics and all the 16 German lands to discuss what we can do for better financing cooperation with Iran. There are two possibilities. One is to have more banks in Germany ... in contract with Iranian companies. The other one is, we have little groups of banks from Iran [working under] German licenses and it is interesting for us to see how these Iranian banks can help us in financing some projects."
"On Sunday morning, we visited a company active in paper industry in Hashtgerd [a city in and the capital of Savojbolagh County, Alborz Province] they had a new machine from a German partner and we had a ceremony for starting the machine. If you look back a year ago, it was happening and now it is. I think it is a good sign for cooperation. Another German company is here to cooperate in the locomotive sector with the Iranian MAPNA group [a group of Iranian companies involved in development and execution of thermal and renewable power, oil and gas, railway transportation and other industrial projects]. And we have another issue with MAPNA in the renewable sector because in Schleswig-Holstein we are very strong in wind energy and we have a lot of producers and they are signing MOU in this wind sector," he added.
Clarifying the intention of his visit to Iran, Horch explained that "Hamburg is a traditional harbor town and is specialized in all the related issue to harbor, i.e. infrastructure and superstructure of terminals as well as development of the harbor activities. The harbor in Hamburg has a universal bond. Accordingly, this has been the center of all our discussions here in Iran. We can bring in all our experiences in harbor activities from trade and international affairs to Iran. We have had some negotiations with IRISL [Islamic Republic of Iran Shipping Lines] to establish a direct ship line from Iran to Hamburg and that is very important for us. The Iranian company sends its ships weekly to Hamburg and this is very important to us. There is an office in Hamburg for managing the loadings and arrangements. This is a step forward and an increase in activities with Iran."
HJ/MA/MG