Iran, Germany forging mining, banking, tech bonds
November 16, 2016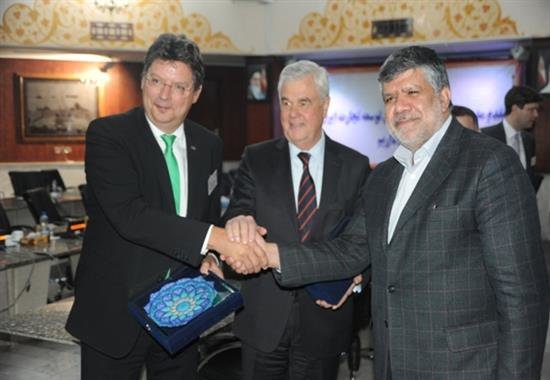 TEHRAN- Iranian industry, mining, and trade officials conferred development of mining, banking and technology ties with the two visiting German ministers and high-ranking banking officials in Tehran on Monday.
As the Portal of Iran's Trade Promotion Organization (TPO) reported, in a meeting with Minister for Economic Affairs, Employment, Transport and Technology of Germany's Schleswig-Holstein state, Reinhard Meyer, and Minister of Economy, Transport and Innovation of Hamburg state, Frank Horch, the TPO Head Mojtaba Khosrotaj underscored vitality of increasing common trade, transferring technological know-how, and removing banking barriers in Iran-Germany economic relations.
Criticizing the low current volume of mutual trade between the two countries, Khosrotaj named processing mineral products, logistics, banking relations, joint investments, knowledge-based industries, tourism, and development of commercial ties and non-oil exports, etc., as potential fields on which the two sides can focus for improving mutual ties.
The Iranian official also called on the German side to take necessary measures to overcome banking hurdles.
Hoping for ever-increasing ties with Iran, Horch, for his part, noted that the German side will do its best to remove post-sanction barriers to improve relations with Iran, adding that Hamburg, strong in minerals, marine transportation and aviation, can have a good cooperation with Iran in such sectors.
Meyer, for his turn, mentioned processing metals, logistics, small and mid-sized companies, digitalizing industrial and production units and etc., as the possible areas for cooperation with Iran.
"We are ready to transfer technology to the Islamic Republic and issue licenses for Iranian companies," the German minister added.
BHF Bank poised for future co-op with Iran
Elsewhere, Head of Structured Trade & Commodity Finance Section of BHF-Bank Hans-Günter Wiesenack and his accompanying delegation in a Monday meeting with Head of Iranian Mines and Mining Industries Development and Renovation Organization (IMIDRO) Mehdi Karbasian in Tehran, expressed the German-French bank's readiness for development of long-term financial transactions with Iran in the post-sanction era, IRNA reported.
"BHF's relations are mostly defined in a long run, accordingly 30 to 40-year cooperation is plausible to be taken in mind," Wiesenack said, underlying mining and industry sectors as the German side's fields of interest for future relations.
He expressed content that after the lifting of financial embargo against Iran the ground is set for developing financial ties, specifically as of the international insurance companies, including the French COFACE and the German Hermes, guarantee trade with the Islamic Republic.
During the meeting, Karbasian announced that Iran plans to implement up to $30 billion of mining and industrial projects in five years.
Underscoring the significance of improving banking, monetary, and insurance ties, he expressed Iran's readiness for attracting foreign investments.
HJ/MA