India mulls $20 billion investment in Iran
December 3, 2016 - 21:11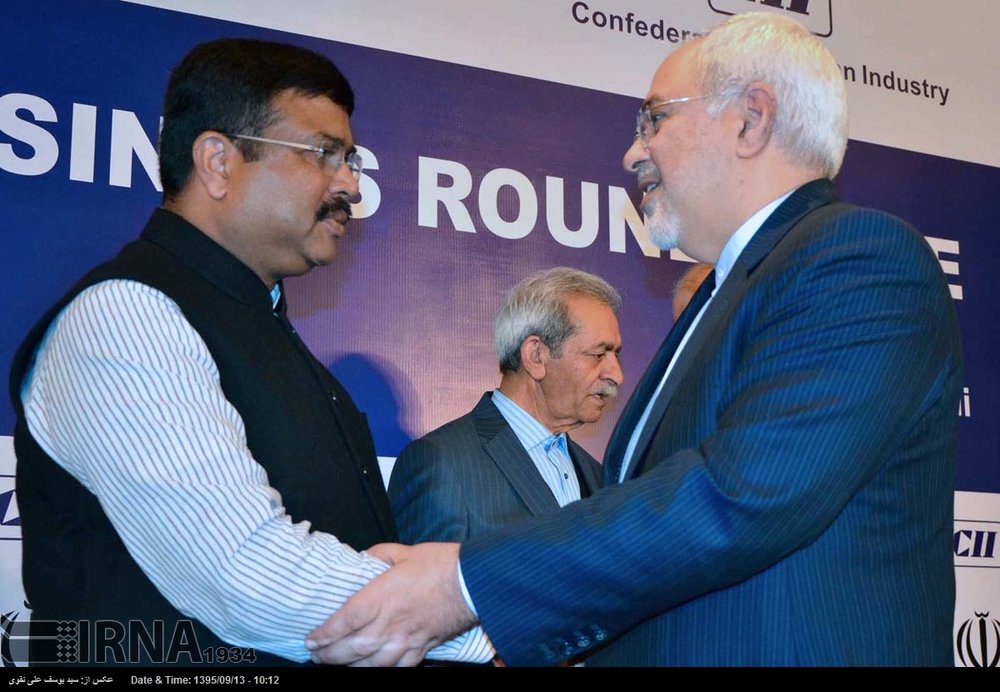 TEHRAN – India is inclined to invest up to $20 billion in Iran, Petroleum and Natural Gas Minister Dharmendra Pradhan has said.
While expressing India's willingness to invest in Iran's southeastern port of Chabahar, he said his country will make such an investment 'if conditions are provided', IRNA reported on Saturday.

He made the remarks during Iran-India Business Round Table which was held in New Delhi on Saturday.
Iranian Foreign Minister Mohammad Javad Zarif, senior managers from Iranian and Indian chambers of commerce, banks, and other sectors including industry, trade, and science attended the business forum, IRNA reported on Saturday.
Pradhan also said that the two countries can increase bilateral oil and gas trade. He, in addition, showed his country's willingness to participate in the development of Iranian Farzad-B gas field in the Persian Gulf.
$30b trade possible
During the meeting, the chairman of Iran Chamber of Commerce, Industries, Mines and Agriculture, Gholam-Hossein Shafei, said the current level of bilateral trade is not proportional to potentialities, saying that the value of trade can reach $30 billion in the future.
Shafei underlined that possessing huge energy resources, the Islamic Republic can act as a reliable source to meet India's need to energy.
He, elsewhere, named transportation sector as one of the possible fields of cooperation between the two countries, adding that the recently signed trilateral agreement between Iran, Afghanistan, and India to develop the Iranian port of Chabahar can change Iran into the region's transportation hub.
Ties beyond oil and gas
Highlighting the significance of Chabahar port in the expansion of Iran-India relations, the Iranian foreign minister noted that the port can be beneficial not only to Iran but also to all other regional countries.

Referring to the importance of banking relations as the backbone of economic ties between the two countries, Zarif expressed hope that relations would continue developing in the future.
On the first leg of his three-nation tour of Asia, Zarif arrived in New Delhi on Saturday morning to take part in the Heart of Asia Conference on the situation in Afghanistan and also to hold talks with high-ranking Indian officials.
The foreign minister is accompanied by a 70-member high-ranking politico-economic delegation who will take part in trade and business meetings with India, China, and Japan.
HJ/MA/MG