Iranian ICCIMA, Azeri ASK ink MOU
December 28, 2016 - 18:6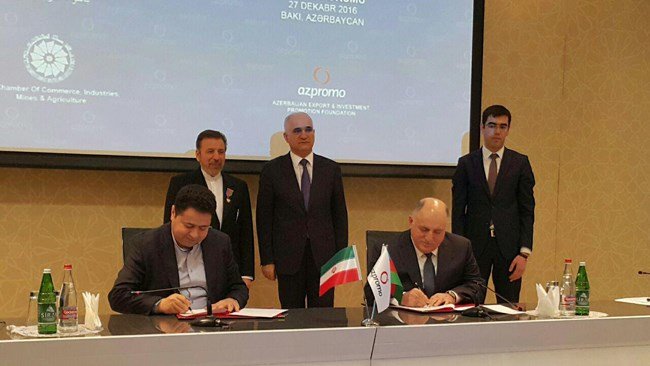 TEHRAN- Iran Chamber of Commerce, Industries, Mines, and Agriculture (ICCIMA) and Azerbaijan Confederation of Entrepreneurs, known as ASK, signed a memorandum of understanding (MOU) in Baku.
The MOU was inked on the first day of Iran-Azerbaijan Business Forum in the Azeri capital, by the ASK president Mammad Musayev and the ICCIMA board member Hossein Pirmoazen, the portal of ICCIMA reported on Wednesday.
During the signing ceremony, attended also by Iranian and Azeri governmental and private sector managers, the two sides explored avenues for further trade ties besides calling for the implementation of the previously penned contracts.
Iran-Azerbaijan Business Forum will wrap up on Thursday having entrepreneurs from a wide range of sectors, including agriculture, food and light industries, pharmaceuticals, transportation, logistics, tourism, ICT, construction, production of building materials and auto spare parts participated, Trend news agency reported.
Iran's ICT Minister Mahmoud Vaezi and Azerbaijan's Minister of Economic Development Shahin Mostafayef also took part in the event.
Vaezi arrived in Baku on Tuesday for a three-day visit to attend the 11th meeting of the Azerbaijani-Iranian intergovernmental commission on economic, trade and humanitarian issues.
In his meeting with Azerbaijan's President Ilham Aliyev, the two sides underscored the importance of all-encompassing relations, particularly in the economic sector.
"Economic relations between the two countries have made great progress as compared to the previous year," Vaezi was quoted as saying.
HJ/MG