Hezbollah chief, senior Iranian MP confer on regional developments 
January 7, 2017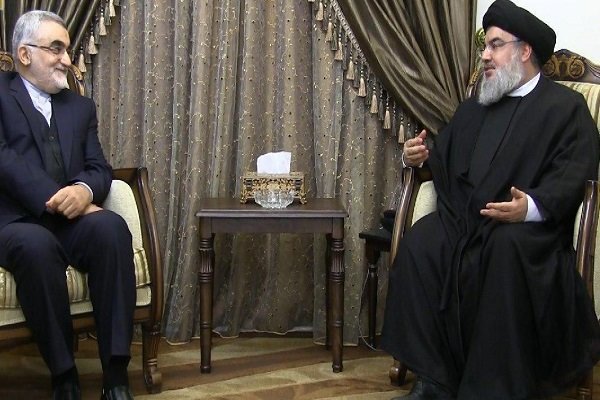 TEHRAN - Seyyed Hassan Nasrallah, secretary general of the Lebanese Hezbollah movement, and Iranian Parliament National Security and Foreign Policy Committee Chairman Alaeddin Boroujerdi held talks in Beirut on Saturday on the latest political developments in the Middle East.
The Beirut visit comes after Boroujerdi met top Syrian officials, including President Beshar al-Assad, in Damascus on Thursday.
Boroujerdi, who headed a parliamentary delegation to the two countries, told IRNA that Tehran and Beirut are determined to develop ties in different areas, especially in economy, commerce, and security.
The parliamentarian made the remarks after a meeting with Lebanese President Michel Aoun.
"In the meeting with General Michel Auon, we congratulated the new Christian year and his election as president of Lebanon," the lawmaker added.
"We also announced the warm greetings of the Iranian president and Majlis speaker to him."
The senior legislator also said the Iranian parliamentary team presented a report on meetings with Syrian officials to the Lebanese side.
"In the meeting we insisted on the importance of the Syrian issue for the Islamic Republic of Iran and Lebanon and in terms of security."
Boroujerdi said President Auon requested Iran to help "resolve the problems" of the Syrian refugees which a large number of them live in Lebanon.
He further said the Syrian president wanted to know about the planned talks, brokered by the troika of Iran, Russia and Turkey, between the Syrian government and armed opposition groups in Astana, Kazakhstan.
The Lebanese president expressed hope that the Syrian conflict could be resolved politically, the lawmaker added.
Boroujerdi and his accompanying delegation were set to hold talks with Lebanese Prime Minister Saad Hariri and Parliament Speaker Nabi Berri on Saturday, as well.
According to a separate story carried by IRNA, Auon said, "We hope that efforts (for peace talks between the warring sides in Lebanon) lead to a solution to end the sufferings of the Syrian refugees."
PA/AK