Iran, Lebanon reaffirm support for Syria talks
August 22, 2017 - 20:4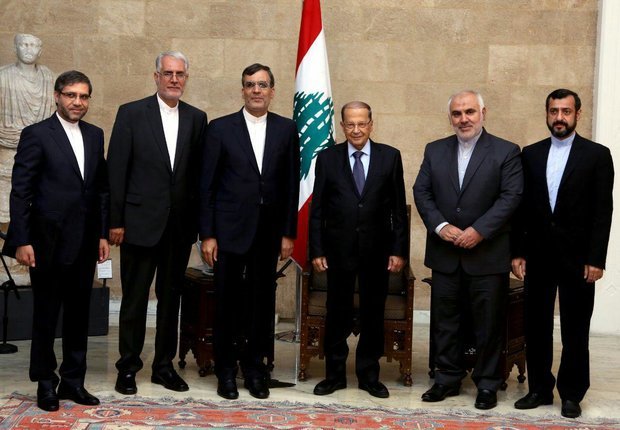 TEHRAN – Iranian Deputy Foreign Minister Hossein Jaberi Ansari met with senior Lebanese officials including President Michel Aoun in Beirut on Monday to discuss bilateral ties and regional issues, especially the Syrian crisis.
Jaberi Ansari and Lebanese Foreign Minister Gebran Brassil reaffirmed their countries' support for the Astana talks to settle the Syrian conflict which has been raging on for more than six years.
In his meeting with President Aoun, the top Iranian diplomat further noted that Lebanon has a special place in Iran's foreign policy especially during the second term of President Rouhani.
Jaberi Ansari who arrived in Beirut on Monday morning also hailed the distinguished role of the Lebanese nation, government, army, and resistance movement in opposing the Israeli aggression.
Jaberi Ansari, Iran's point man for Arab affair, also called for closer regional cooperation and economic diplomacy between Tehran and Beirut.
During the meeting, the Lebanese president extended his warm greetings to President Rouhani and congratulated him on the start of his new term.
Aoun pointed to the extensive impact of regional crises, especially the Syrian conflict, on his country, calling for expansion of cooperation with Tehran to remedy the situation.
In separate meetings, Jaberi Ansari met with Lebanese Parliament Speaker Nabih Berri to discuss regional issues and bilateral ties.
Jaberi Ansari thanked the Lebanese parliament speaker for attending the swearing-in ceremony of President Rouhani.
He also expressed gratitude for Lebanon's role in fighting the Zionist regime and its illegal occupation of Arab lands.
The Iranian diplomat also briefed Berri about the latest regional developments, including the newest issues surrounding the Astana peace talks on Syria.
Berri, for his turn, highlighted the need to expand cooperation between Iran and Lebanon.
He also pointed to the negative consequences of disintegration of regional countries, underlining the need to prevent such possibilities from occurring.
MH/PA