Lebanon, Iran view Israel, terrorism as threats to regional stability
August 23, 2017 - 18:27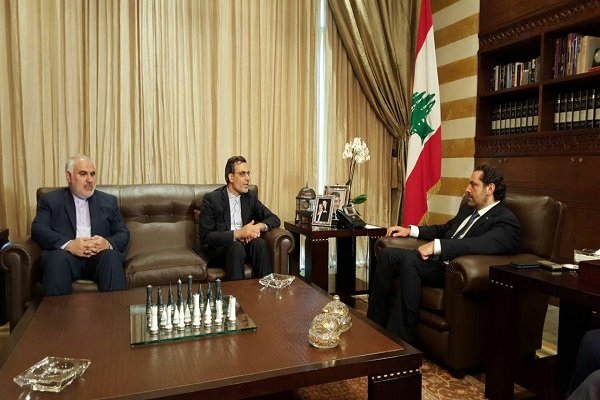 Lebanon's prime minister has held talks with an Iranian deputy foreign minister on the threats posed by the Israeli regime and terrorism to the troubled Middle East region.
The meeting between Saad Hariri and Hossein Jaberi Ansari, which took place in Beirut on Tuesday, focused on Tehran-Beirut ties as well as the latest developments in Lebanon and the broader Middle East region.
During the meeting, Hariri referred to Israel and terrorism as the two primary threats facing Lebanon and the entire region.
Hariri described dialogue and cooperation among different Lebanese political parties as the reason behind the Beirut government's recent achievements, stressing that the country was determined to continue that approach.
Jaberi Ansari, for his part, said the two threats highlighted by the Lebanese premier provide a common ground for boosting Tehran-Beirut ties and regional cooperation.
He further voiced the Islamic Republic's readiness to bolster relations with Lebanon in all fields and termed the Arab country as a good example of national consensus and domestic coexistence.
In a press conference following the meeting, the Iranian official said he had held talks with Hariri on the need to resolve the Syria crisis through dialogue and to continue the counter-terrorism fight there.
Jaberi Ansari expressed Iran's resolve to bolster cooperation with Lebanon, especially in the political and the economic areas.
Asked about Lebanon's recent counterterrorism operation near the Syrian frontier, he said that the Lebanese military, backed by the Hezbollah resistance movement and the nation's support, have managed to score major victories against the terrorists.
He expressed hope that the joint cooperation will continue until terrorists are eradicated from the border region.
The Iranian official further congratulated the Lebanese nation, government, army and the resistance on the battlefield victories.
The Lebanese military launched its anti-terror operation on Saturday. Hezbollah also started a simultaneous offensive against the Daesh Takfiri terrorist group from the Syrian side of the frontier.
Last month, Hezbollah concluded a joint counter-terrorism campaign with the Syrian army at Lebanon's highlands of Arsal.
Jaberi Ansari, who arrived in Lebanon on Monday for a three-day visit, has already held talks with President Michel Aoun, Parliament Speaker Nabih Berri and Hezbollah Secretary General Sayyed Hassan Nasrallah.
(Source: Press TV)