by Holly Christodoulou and Guy Birchall
Who is Steve Bannon? U.S. President Donald Trump's chief strategist
February 5, 2017 - 9:47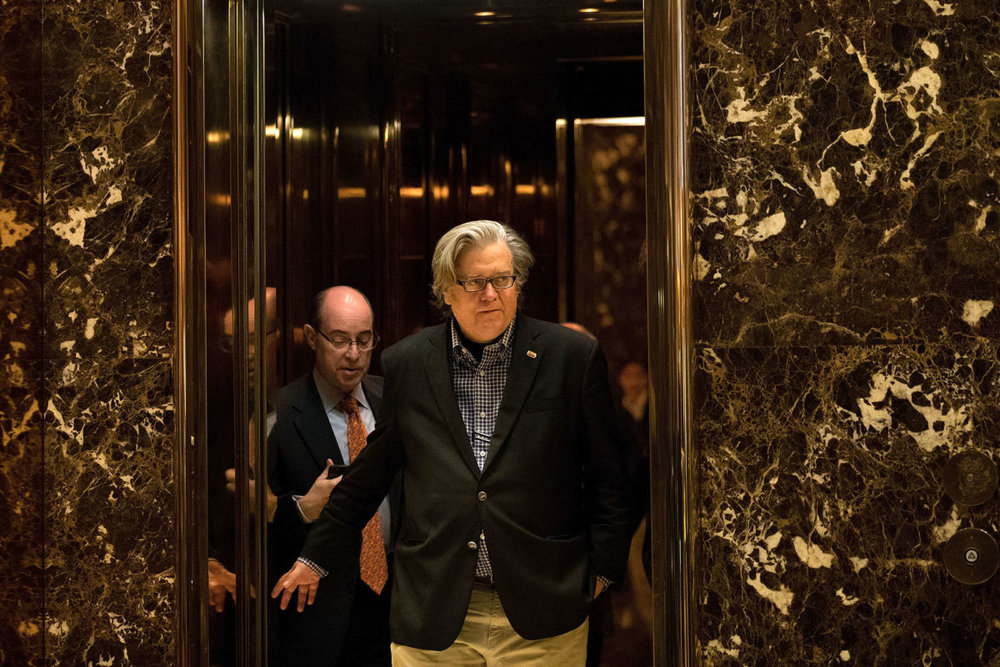 Donald Trump's appointment of controversial right-winger Steve Bannon to the role of Chief Strategist dismayed liberals. They accused him of supporting a movement of "white nationalists" and "unabashed anti-Semites".
And less than a week after Trump took charge at the White House, Bannon lashed out at the U.S. media saying it should "keep its mouth shut".
Here's what we know about the fiery former executive chairman of American right-wing network Breitbart News.
Who is Stephen Bannon?
Stephen Bannon has been described as the "most dangerous political operative in America". The 62-year-old was born into a poor family in Norfolk, Virginia, in 1953.
He signed up for the Navy after leaving college and spent four years at sea aboard a destroyer.
After leaving the Navy, Bannon attended Harvard Business School, where he received an MBA, before landing a job at Goldman Sachs.
He left the company in 1990 and started up Bannon & Co – a boutique investment bank specializing in media. His company ended up working on MGM's studio financing, and handling the acquisitions when Polygram Records moved into the film business.
He also ended up with a share in Seinfeld and produced films including Anthony Hopkins's 1999 Oscar-nominated Titus.
From March 2012, Bannon was executive chairman of Breitbart News. Under his leadership, the company became more far-right and nationalistic.
Bannon also directed Torchbearer, which follows controversial Duck Dynasty star Phil Robertson. The Trump supporter said homosexuality was sinful and was cited as the 2015 Breitbart Defender of the First Amendment Award. Trump has been slammed over his decision to hire Bannon.
When was Stephen Bannon hired by Donald Trump?
Bannon was appointed to become chief executive of Trump's presidential campaign on August 17, 2016. The choice was celebrated by former KKK leader David Duke (The Ku Klux Klan (KKK), or simply "the Klan", is the name of three distinct movements in the United States that have advocated extremist reactionary currents such as white supremacy, white nationalism, anti-immigration, and, especially in later iterations.)
Following his stunning election win, Trump hired Bannon to become his chief strategist and senior counsellor in a move which has drawn heavy criticism.
John Weaver, a Republican political consultant who was John Kasich's chief strategist, tweeted: "The racist, fascist extreme right is represented footsteps from the Oval Office. Be very vigilant America."
Dan Pfeiffer, former senior adviser to President Barack Obama, noted: "Nation exhales because white nationalist only gets second most influential job in White House."
The former banker and head of Breitbart News played an important role in getting The Donald into power and now he's helping him run the U.S.

Why don't people want Stephen Bannon as Chief Strategist?
Bannon has been accused of being an anti-Semite and a far-right extremist. His ex-wife Mary-Louise Piccard said in court documents filed in 2007 that he didn't want his daughters "going to school with Jews", which Bannon denied.
He has even jokingly compared himself to Darth Vader and Satan.

Less than a week after Trump was sworn in, Bannon used an interview to attack the mainstream media in the U.S. after his boss sparked a public row over the crowds at his inauguration. He said: "The media should be embarrassed and humiliated and keep its mouth shut and just listen for a while.
"I want you to quote this. The media here is the opposition party. They don't understand this country. They still do not understand why Donald Trump is the president of the United States."
During the early 2000s, Bannon began working on more documentaries. He wrote, co-produced and directed his own film in 2004, In The Face Of Evil: Reagan's War In Word And Deed. Bannon has credited Reagan with spurring his own political view in the past.
He said last year: "I come from a blue-collar, Irish Catholic, pro-Kennedy, pro-union family of Democrats. I wasn't political until I got into the service and saw how badly Jimmy Carter f****d things up. I became a huge Reagan admirer. Still am."
"But what turned me against the whole establishment was coming back from running companies in Asia in 2008 and seeing that Bush had f****d up as badly as Carter. The whole country was a disaster."
Under his leadership, Breitbart pushed a nationalist, anti-establishment agenda and became one of the leading outlets of the so-called alt-right – a movement often branded far-right with a fringe "white nationalist element" that opposes multiculturalism and defends "Western values".
Examples of headlines on the site include: "Would you rather your child had feminism or cancer?" and "Birth control makes women unattractive and crazy". Both those articles were written by Breitbart's resident British polemicist Milo Yiannopoulos.
What does a Chief Strategist do?
The role is a relatively new and broadly defined one that many presidents in the past have done without. Franklin Delano Roosevelt was the first U.S. head of state to appoint someone to the role.
According to David Axelrod, who fulfilled a similar role for Trump's predecessor Barack Obama, said "the fact that he's not chief of staff implies that he won't control hiring and administrative decisions."
Those details will likely be handled by Chief of Staff Reince Preibus, with Bannon left to oversee the long-term plans for the Trump White House including the presumed 2020 re-election campaign.
They will also play a key role in how the administration is portrayed in the media, working closely with the press secretary.
What else has Stephen Bannon done?
In April 1995, Bannon married his second wife Mary-Louise Piccard, who accused him of domestic violence less than a year later.The charges were later dropped when his now ex-wife did not show up to court.
(Source: The Sun)