Borhani, Giveh examples to Iranian women
February 7, 2017 - 11:37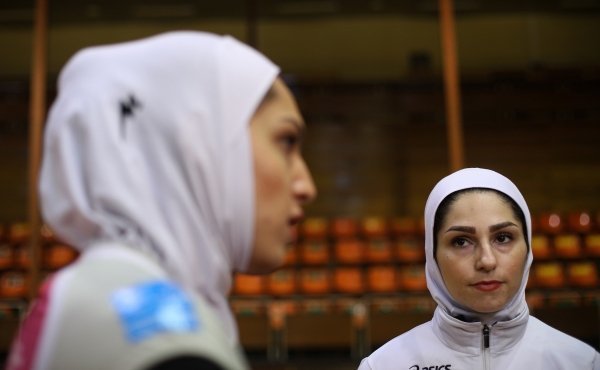 Maedeh Borhani and Zeinab Giveh, the first Iranian women to play professional volleyball outside their country, are easy to recognize -- they play in hijab scarves and long leggings.
Borhani and Giveh say they want to be an example to other Iranian women.
"We are proud that we are the first Iranian women who can play in Europe and make history for Iran," Borhani told AFP.
"One of the reasons why we wanted to come here was to open the way for other talented Iranian players to go abroad," she said.
"It was a very easy decision, like opening the door and stepping out," Giveh, who is captain of the Iranian women's national team, added.
Shumen YEB manager Basharan, 48, said he wanted the pair as attracting players of similar class from another country would cost 10 times more.
Shumen YEB are sixth in the Bulgarian league but need to be in the top four to get a place in European tournaments next year.
Volleyball is one of the most popular sports in Iran. Wearing the hijab and leggings is also compulsory for women during games. Borhani said they had no problem keeping the rule in Bulgaria to get permission for the move from Iran's volleyball federation and sports ministry.
"We are here to play volleyball and our religion and its rules should not be a problem," Borhani said.
"Wearing hijab is a habit, a style that we are used to," she added, her lipstick-covered mouth curling into a smile as she recounted how much they have been made welcome in Shumen.
"When we walk in the street all people know us and we like it."
Bulgaria banned the wearing of a full face veil in public in September amid rising nationalism and a refugee influx.
But the two women's loosely tied dark blue headscarves do not turn eyes in a town like Shumen that has a large Muslim minority. Other women can be seen in the street wearing headscarves.
"Life is easy and simple in Bulgaria, the weather is nice and the people are very kind," said Giveh, adding that she felt happy.