Mogherini says EU committed to full implementation of nuclear deal
February 11, 2017 - 20:53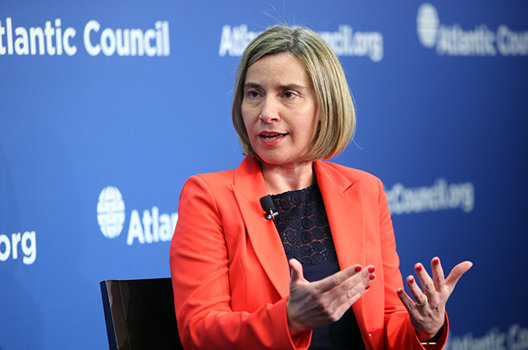 EU foreign policy chief Federica Mogherini said on Friday that the European Union is committed to the full implementation of the nuclear deal with Iran, and that she came away reassured from her meetings with U.S. officials that Washington shares that commitment.
Speaking at the Atlantic Council, Mogherini said she found "common ground" with the Trump administration on the deal.
"I heard from my interlocutors the intention to make sure that the deal is 100 percent implemented," he said.
"It is a clear European shared interest to preserve the agreement," she added.
The EU, she said, will monitor in a "very strict manner" the implementation of the deal "in its entirety, from all sides."
Iran and the 5+1 group - the United States, Britain, France, China and Russia plus Germany - finalized the text of the Joint Comprehensive Plan of Action (JCPOA) in Vienna in July 2015. The nuclear agreement took effect in January 2016.
In a speech in March to a conference of the American Israel Public Affairs Committee (AIPAC) in Washington Trump claimed that his "number one priority is to dismantle the disastrous deal with Iran". However, later he backed down from his position saying it was difficult to violate a deal which has been approved by the UN Security Council.
Mogherini said on November 9 that the JCPOA is a "multilateral agreement" and that she is tasked to guarantee its full implementation.
EU foreign ministers also issued a statement on November 14 reiterating the 28-nation bloc's "resolute" commitment to the implementation of the nuclear agreement.