Tehran, Baku on fast track to closer ties
March 5, 2017 - 19:57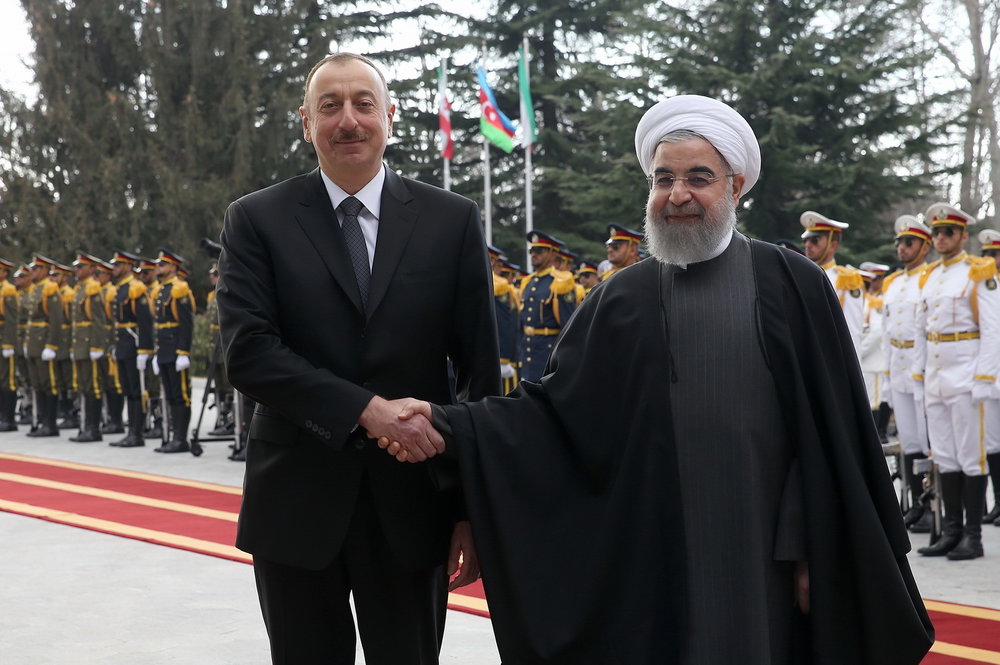 TEHRAN – Azerbaijani President Ilham Aliyev arrived in Tehran on Sunday for the third time in three years in a bid to seek closer ties with its big neighbor.
"Our relations have been built on ancient history, culture and common religion," he was quoted as saying during an appearance with President Hassan Rouhani, the eighth one between the two since 2013 when Rouhani took office.
"We have established very good cooperation on this solid basis. Our political relations are at a high level and we support each other in all international organizations," Aliyev explained.
Referring to documents finalized between the two sides during previous meetings, the Azerbaijani head of state noted that the agreements have either entered implementation or are being prepared for implementation.
As a result, trade between the two neighboring countries grew as much as 70 percent in 2016, Aliyev said while citing 18 MOUs signed in recent years.
"Today, two more documents were signed which is a good basis for strengthening relations," he added.
A key project the two governments, along with several other more, are working on a mega rail project which increases connectivity between India, Iran, Central Asia countries, Russia, and Europe, what Aliyev called a "historic and important" move which benefits the whole region.
The corridor is expected to connect Northern Europe to Southeast Asia through their territories.
According to preliminary estimates, the overall capacity of the rail link will be 1.4 million passengers and 5-7 million metric tons of cargo a year.
In a February visit to Tehran by Aliyev, the two sides signed 11 memoranda of understanding in areas of transportation, electricity swap, health and medicine, oil, gas, petrochemicals, etc.
Aliyev also expressed thanks to Iran for its position on settling the Armenia-Azerbaijan Nagorno-Karabakh conflict on the basis of territorial integrity and sovereignty of Azerbaijan.
Tehran insists that the conflict should be settled through peaceful and political tools, inviting both sides to exercise restraint.
Late February, Iran declared it would not recognize Azerbaijan's Nagorno-Karabakh region, occupied by Armenia, as an independent republic and consider it wrong to conduct a referendum in that region.
In April 2016, Iran and Azerbaijan inked four MOUs, including one between Iran's Darou Pakhsh Company, Azerbaijan Investment Company OJS, and Azersun Holding MMC on producing 52 kinds of medicine in a site near Baku.
Also, an agreement was made on a cooperation pact between Darou Pakhsh and Azerbaijan's Sumgait Chemical Industrial Park MMC on establishing a relevant production unit in Sumgait Chemical Industrial Park.
Practical steps to shore up economic cooperation have been a focus of 11 joint economic commissions attended by senior officials from both sides.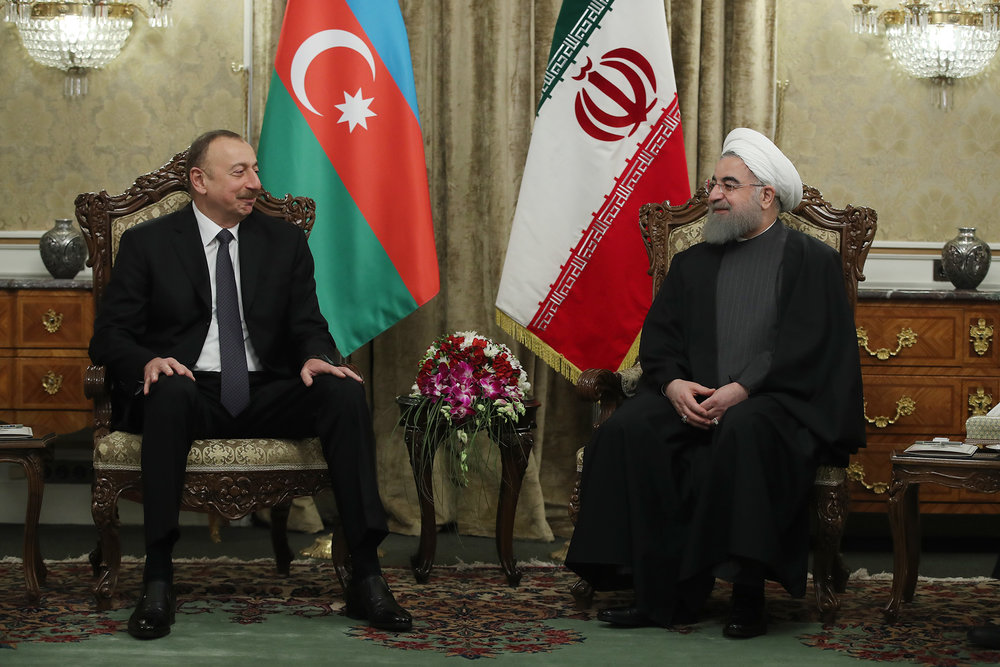 Rouhani hails ties with Baku 'friendly, brotherly and strategic'
At a joint news conference with Aliyev, President Hassan hailed ties with Azerbaijan as "friendly, brotherly and strategic," emphasizing that ties "have made considerable progress in the past three years."
"10-month trade between Tehran and Baku this year indicates that the two countries are seeking to expand and strengthen all-encompassing ties," Rouhani noted.

Trade turnover between Azerbaijan and Iran amounted to $175 million in January-November 2016, $130.13 million of which explained by imports from Iran, according to the State Customs Committee of Azerbaijan.
Iranian companies have so far invested $2.6 billion in Azerbaijan's economy, some $145 million of which is accounted for by investment in the country's non-oil sector.
The investment has been the result of more than 450 Iranian companies operating in Azerbaijan.
President Rouhani also said the two Muslim countries view terrorism as a major threat, and share common views on the need to fight terrorists in Iraq, Syria and elsewhere.
"We see terrorism, which is unfortunately rooted in the Wahhabi and Salafi ideology, as a big threat to the region and believe the roots of this ideology need to be dried up," the president said.
"On the issue of Syria and Iraq, we share common views and hope efforts by Iran, Turkey and Russia will bear fruit," Rouhani said, adding the ultimate solution for Syria has to be political.
"Iran believes the territorial integrity of countries must be respected and regional problems resolved through political means and dialogue."
Rouhani also made a case for closer consultation between Tehran and Baku on working out a legal regime for the Caspian Sea, insisting that the consultations "should continue until final agreement is achieved."
The Caspian Sea littoral states - Iran, Azerbaijan, Kazakhstan, Turkmenistan and Russia - are discussing a convention on the sea's legal regime that would be a comprehensive document outlining the duties and rights of the five littoral states as well as the framework of cooperation among these countries.
AK/PA