France calls on Russia, Iran to ensure Syrian ceasefire
March 13, 2017 - 10:21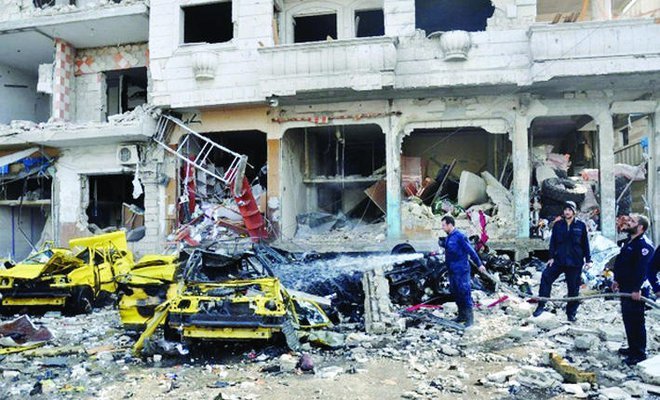 TEHRAN - The French foreign ministry condemned the deadly Damascus attack on Saturday and called on truce guarantors, especially Russia and Iran, to ensure that the ceasefire in Syria is fully respected. 
The death toll from the twin bombings that targeted Shiite pilgrims in Damascus has climbed to 74, the Syrian Observatory for Human Rights reported on Sunday.
In a statement, the French foreign ministry said, "There is more than ever urgency to ensure that ceasefire is respected in Syria. France calls on the truce guarantors, especially Russia and Iran, who will meet in Astana next week, to put pressure on parties to ensure that ceasefire is fully respected".
Russia, Iran and Turkey, as they announced in a joint statement on December 20 in Moscow, are responsible for making sure a ceasefire is upheld by the warring sides in Syria.
The ceasefire was declared 10 days later by Russia and Turkey.
The attack in Damascus took place at a bus station where the pilgrims had been brought to visit the nearby Bab al-Saghir cemetery. According to the Damascus correspondent for Hezbollah-run al-Manar TV station, the pilgrims were due to pray at the cemetery after visiting the Sayeda Zeinab shrine just outside Damascus.
So far, no one has claimed responsibility for the Saturday's attack. Also conflicting reports were published as to what has caused the attack. According to al-Manar, the attacks were carried out by two suicide bombers.
The Syrian Observatory for Human Rights said a roadside bomb detonated as a bus passed and a suicide bomber blew himself up in the Bab al-Saghir area.
Last June, Islamic State claimed responsibility for bomb attacks near the Sayeda Zeinab shrine. The last bomb attack in Damascus was in January, when two suicide bombers killed 10 people, 8 of them soldiers.
Iraqi state TV said that at least 40 Iraqi citizens had been killed in the twin bombings on Saturday. This has been confirmed by al-Manar that said most of the dead in the bombings were Iraqis.
"Preliminary statistics indicate the fall of around 40 Iraqi martyrs and 120 wounded," Iraqi Foreign Ministry spokesman Ahmed Jamal said in a statement.
Al Jazeera reported that this attack was one of the deadliest in recent memory in the Syrian capital.
The fourth round of peace talks on the Syrian ceasefire brokered by Russia, Iran and Turkey, are due to take place in Astana, Kazakhstan's capital, on March 14-15.
The first Syria peace talks in Astana were held on February 6. During the second international conference, on February 15-16, Russia Iran and Turkey created a joint trilateral ceasefire group as part of the Syria truce monitoring mechanism.
The talks are regarded as a progress in resolving the Syrian conflict. Both the Syrian government and the armed opposition are taking part in the negotiations.
KB/PA