Tehran, Damascus reiterate support for Syria truce
January 27, 2017 - 21:24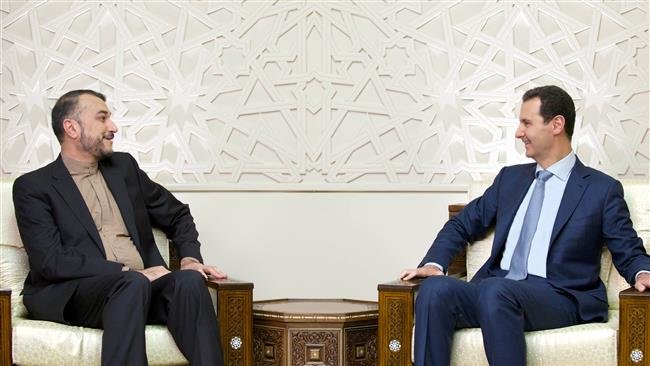 TEHRAN – Iran and Syria on Thursday voiced their support for continuation of a ceasefire in Syria in line with efforts to bring the long-lasting Syrian conflict to a halt through dialogue.
The support for the ceasefire came as Hossein Amir-Abdollahian, a senior foreign policy advisor to the Iranian parliament speaker, met with Syrian President Bashar Assad in Damascus.
Amir-Abdollahian reiterated Iran's support for the Syrian government and congratulated President Assad on victories against terrorists in Aleppo.
A successful ceasefire would pave the way for the restoration of permanent peace and stability in Syria, said Amir-Abdollahian who acted as Iran's point man in Syria until recently.
The advisor said the Islamic Republic's support for the Syrian government is rooted in the strategic ties between the two nations.
Amir-Abdollahian was in Damascus in an official visit to meet the senior Syrian officials in order to discuss the fight against terrorism.
He underlined that Tehran believes terrorism in Syria is an imminent threat to the entire region.
The Syrian leader, for his part, hailed Iran's key role in supporting the Syrian nation in fighting against terrorism as well as making efforts to reach a peaceful solution to the Syrian conflict.
Earlier on Wednesday, the advisor met with Syrian Parliament speaker Hadiya Khalaf Abbas.
"We believe that the recent peace talks on Syria in Kazakhstan proved terrorists' desperation and inability to continue their moves," Amir Abdollahian told reporters after the meeting.
He also met with Foreign Minister Walid al-Muallem on Thursday to discuss bilateral relations and the latest developments in Syria.
During the meeting, the two sides emphasized the importance of trilateral cooperation among Damascus, Tehran and Moscow to end the crisis.
They also urged compliance with the outcome of the latest round of the peace talks that were held in Kazakhstan on January 23-24.
Under efforts mediated by Russia and Turkey and backed by Iran and Syria, a ceasefire was brokered between the Syrian government and the opposition on December 30, 2016.
Following the successful move, Russia, Turkey and Iran made an effort to extend the truce by bringing the two sides of the conflict together in the Kazakh capital of Astana to hold direct talks on finding ways to end the crisis.
The negotiations ended with the three sponsors of the talks releasing a joint statement calling for a trilateral commission to be set up in order to cement and monitor the ceasefire.
MH/PA