By Marjan Golpira
Tehran hosts 1st international run race
April 8, 2017 - 14:9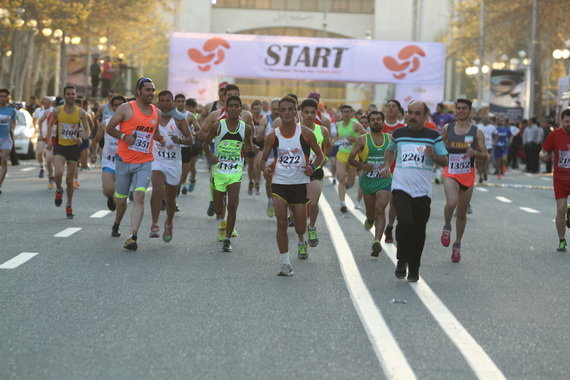 TEHRAN - One runner had his hands up in the air crossing the finish line, another male runner was limping and dragging his left foot to get to the line, yet another international runner had his young children joining him towards the end of the finishing line while his wife was cheering him.
This is what one would witness on the very first Tehran 2017 1st international run race, otherwise called Persian Run, which was held on Friday in Tehran's Azadi Stadium.
A total of 700 national and international participants took part in the competition, out of which 500 were men and 200 women.
International runners were from more than 40 countries, including the UK, Canada, the Netherlands, France, Ireland, and many more.
The event attracted people across all ages; the oldest male participant was a serious Iranian athlete, an 85-year-old Gholamreza Shahdooz who had a record in triathlon as well other field of sports, and the youngest a 13-year-old Iranian boy who was in the race with his father by his side.
Although Iran's track and field federation, the organizer of the event, had men and women run together at first, later the decision was changed and men ran the event separately in the morning, 40 km (marathon) and 21 km (half marathon) around 7:00 and 10 km at 8:00, while women competed against each other in the evening of the same day for 10 km.
Segregation of men and women was not well-received by participants of the event as some couples had planned to do the run together.
The cross cultural event was geared to bring people from various nationalities and countries together and bridge the gap of as misunderstand among them.
As the head of Iran's track and field federation who was also the head of the organizer, Majid Keyhani put it this way, "the Persian Run is a unique opportunity for foreign participants to exchange cultural views with Iranians and discover real Iran."
Iran under sanctions was isolated for decades. After the JCPOA, (Joint Comprehensive Plan of Action) or known as Iran deal in 2016, the country opened up doors to opportunities never possible before.
Iranian minister of Youth Affairs and Sports Masoud Soltani reaffirmed that Iran and P5+1 deal had positive impacts on Iran's sports as well as other areas.
"After the deal, we received a positive reaction from the international sports community as they pleasantly accepted Iran's request to host a few international sports events particularly in the past few months such as this Persian run race today, freestyle wrestling two months ago and Greco-Roman wrestling last month."
What surprised many was that the top three runners in each category in men's section were all from Iran and no international participant was able to win any medal. One reason that crosses mind is unfamiliarity of international participants with the route.
I Run Iran t-shirt was given to each participant of the race. A T-shirt many can look back in the future with pride and say they were among the pioneers of the very first Tehran run race in 2017 in Iran.
The Persian run race is expected to be an annual event held in Tehran from this year on, except that it will be in May, and not in April, as the country observes 13 days of holiday each year during the New Year which falls normally in March 20/ or 21, one of the officials with Iran sports federation said.