Leader calls for enthusiastic, healthy election
April 19, 2017 - 21:18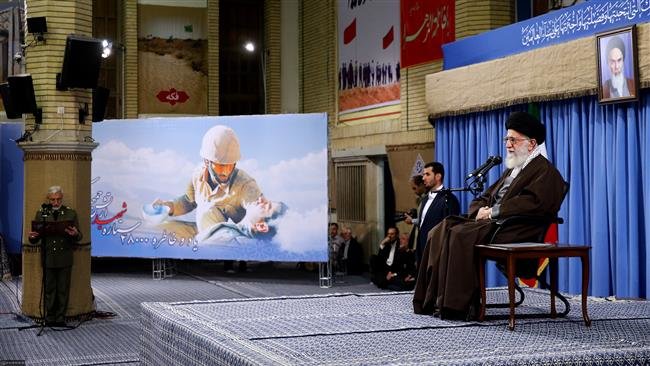 TEHRAN – Leader of the Islamic Revolution Ayatollah Ali Khamenei on Wednesday warned against plots by enemies to disrupt the results of the May 19 presidential election, calling for an enthusiastic and healthy election. 
Ayatollah Khamenei made the remarks on Wednesday in a meeting with Army commanders and personnel.
"Despite how the enemies and the mainstream media try to spoil the results of the elections, in some way or another — if the Iranian nation continues to take part in the elections with vigilance and awareness, as they always have, then a massive election, coupled with enthusiasm and eagerness… will be held, and this will be a significant asset for the country," he said.
He added a massive turnout in the election would safeguard the country against plots by the enemies.
The Leader further urged the Iranian nation to appreciate the elections, saying, "We should commemorate the elections. The elections should be healthy, safe, enthusiastic and massive."
The twelfth presidential election and council elections are scheduled to be held on 19 May.
Ayatollah Khamenei further said that if the officials look at the enemy's motives, they may gain motivation to work harder.
"When we hear what the enemies say and examine their words, we realize that they insist on the same points, so that they can use weaknesses and flaws to sabotage others and inflict harm," he said.
The superpowers always threaten and bully other countries, he noted. "They want to interfere everywhere."
He also lauded Iranian nation for their resistance against different plots against the country over the past decades.
Elsewhere in his remarks, Ayatollah Khamenei pointed to the economic situation in Iran, saying, "I highlighted economic slogans over the past two-three years, because I felt the enemy sought to strike a blow against this great system by targeting our economy."
"When we have economic problems, various sectors of the establishment will not be able to carry out their tasks properly; hence, we need to see what the top priorities are in order to address them adequately, one at a time, when it comes to the officials' set of duties."
MH/PA