Tehran conference highlights role of virtual water in water crisis management
May 1, 2017 - 9:13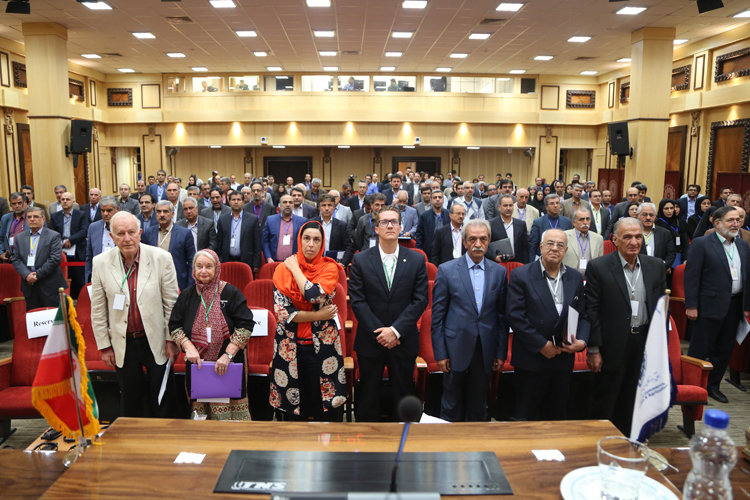 TEHRAN — The first international conference on virtual water highlighted the instrumental role of virtual water in managing water crisis both in Iran and worldwide.
Co-conducted by Food and Agriculture Organization of the United Nation (FAO) and Iran Chamber of Commerce, Industries, Mines and Agriculture (ICCIMA) the two-day (29-30 April) international conference in Tehran emphasized the value of virtual water to address impacts of climate change, population growth and food security at national, regional and global levels.
Virtual water, also known as embedded water, is the water used to create the goods and services that we consume and use. The embodied water concept is illustrated in the diagram with a bowl of pasta, which may hypothetically contain 200 liters of virtual water, although only two liters of boiling water is used to produce it at home.
The concept of virtual water was first put forward by Tony Allan, a British geographer, in 1993, the ICCIMA director for strategic studies on agriculture and water said.
Mohammad Hossein Shariatmadar went on to say that integrated management of water resources, balancing groundwater resources, promoting water efficiency, recycling, and utilizing latest technologies are of the method to overcome water scarcity "and now we need to look into the concept of virtual water closely."
It is agreed that virtual water can help respond to water crisis worldwide and the first international conference on virtual water would open up the opportunity to discuss the possibility of trading virtual water to restore water resource, Shariatmadari added.
The Netherlands ready to host 2nd conference
"Iran took the first step to hold the conference for the first time as we believe we've overlooked virtual water for years," ICCIMA head, Gholam-Hossein Shafeie, said, adding, the Netherlands have expressed readiness to host the second round of the conference next year.
The concept of virtual water and virtual water trade is relatively new globally and according to the numerous studies conducted on the matter it can help resolve water crisis, particularly in Iran, if used effectively, Shafeie underscored.
Water crisis can spark off violence, instability
Deputy Foreign Minister Abbas Araqchi warned off the possibility of war and violence provoked by water crisis on international scale.
"That's why it is a universal responsibility to raise public awareness," Araqchi noted.
Unsustainable management of water is threatening countries, challenging the regional and international stability, encourage immigration, and fuel security challenges, he added.
Araqchi further said that water diplomacy is now developing and the concept of virtual water is one of them; in order to succeed in pursuing such diplomacy countries need to do spatial planning, manage water resources, and come up with scientific methods for recycling water and wastewater.
Government considering extraterritorial farming
While a great deal of virtual water is used in producing food in the agriculture sector, Agriculture Minister Mahmoud Hojjati explained that the government has seriously considered the idea of extraterritorial farming (using agricultural lands in other countries to cultivate the crops and import them to Iran) and discussed the matter with foreign officials.
"Currently we have managed to either buy or lease some 728,300 hectares of farming lands for extraterritorial farming," Hojjati said.
"We are also planning on signing agreements for 422,000 hectares of land and also negotiating to seal deals for more 441,000 land area," he added.
Water availability in MENA to drop 50% by 2050
For his part, Serge Nakouzi, the FAO representative to Iran, warned that water availability in the Middle East and North Africa region decreased by about 65 percent during the last 40 years and it has been expected to fall by another 50 percent by 2050.
"The threat of climate change has been compounding the situation, increasing the recurrence and severity of drought conditions in many of the countries in the Middle East region including Islamic Republic of Iran in recent years" he added.
"In addition to managing surface and groundwater resources, we need to manage virtual water and tackling water shortage by proposing and developing solutions," he noted.
"I trust that with the good level of support that FAO is receiving from its national and international partners and in close collaboration with the sister agencies in the UN system, FAO will effectively contribute to the sustainable development of this great country" he underscored in concluding his remarks.
MQ/MG