Iran know FIBA Asia Cup opponents
May 30, 2017 - 17:14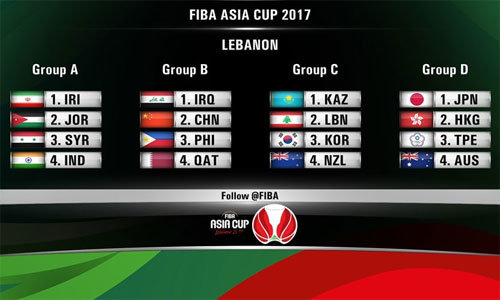 Iran have been drawn with Jordan, Syria and India in Group A of the FIBA Asia Cup 2017.
The Official Draw Ceremony of the FIBA Asia Cup 2017 took place at Le Royal Hotel Dbayeh, Lebanon on Tuesday.
The groups are as follows:

Group A: Iran, Jordan, Syria, India
Group B: Iraq, China, the Philippines, Qatar
Group C: Kazakhstan, Lebanon, Korea, New Zealand
Group D: Japan, Hong Kong, Chinese Taipei, Australia

The FIBA Asia Cup 2017 will take place in Lebanon from 8-20 August, and it will be the first ever Asia-Oceania joint continental Championship.

The Group Stage of the tournament will be played in a round robin format, with the sixteen teams divided into four groups of four teams. Every team will take on three opponents in the respective group.

The top three teams from each group will then advance to the Second Phase where they will be they be divided into two groups (E & F).

The tournament will be played in a knockout format from the Quarter-Finals onwards (Quarter-Final, Semi-Final, Final).